Campus Training
The Office of Civil Rights and Title IX Compliance offers a variety of informational sessions, trainings, and workshops.  They are designed to inform students, staff, faculty, and visitors about their rights and responsibilities as members of the Northwestern community, and to equip community members with the tools to create a vibrant, equitable, and accessible learning environment for all.
The Outreach and Education team is operating at reduced capacity due to staffing, and our ability to respond to individual requests is limited. We encourage community members who are interested in receiving education from our office to register for one of our open enrollment trainings. We review workshop requests once a week. Thank you for your patience.
Session Topics
Information sessions

Office of Civil Rights and Title IX Compliance 101

: What You Need to Know
Intended audience(s): Students, staff, faculty, third parties
Duration: 45-60 minutes
This engaging information session provides an overview of individuals' rights, responsibilities, and options under the University's policies on Harassment, Discrimination, and Sexual Misconduct. For staff, faculty, and others who are paid by the University, this session can include a discussion of responsible employee reporting obligations, including where and how to report, responding to disclosures of harassment, discrimination, and sexual misconduct, and how to talk with students and colleagues about your reporting obligations.
Sexual Misconduct Prevention and Reporting
Intended audience(s): Students
Duration: 45 minutes
This information session provides students with an in-depth understanding of their rights and responsibilities under the University's Policy on Sexual Misconduct. This includes information about prohibited behavior, reporting options, and resources available through the

Office of Civil Rights and Title IX Compliance

, and on campus.
Trainings and Workshops

Creating Gender-Inclusive Spaces
Intended audience(s): Staff, faculty
Duration 60-90 minutes
This interactive workshop will provide participants with vocabulary, concepts, and frameworks to understand how to support community members of all genders. If you are seeking a more in-depth training about gender and/or sexuality, please visit this site to learn more about the University's LGBTQIA+ Ally Training
 Creating and Leading a Collegial Department
Intended audience(s): Staff, faculty
Duration: 90-120 minutes
This training is designed for faculty and staff in leadership roles within their department. Drawing on campus survey data and research from the National Academies of Sciences, Engineering, and Medicine, this interactive workshop will provide participants with concrete tools for creating and leading departments that are inclusive of all members, regardless of race, gender, sexual orientation, etc. 
Creating an Inclusive Classroom
Intended audience(s): Faculty
Duration: 90-120 minutes
This interactive training will provide faculty with practical tools for engaging students across identity and perspective.  Have you ever found yourself unsure of how to navigate when a student makes an offensive remark in class? Talks over another students?  States that you or your teaching methods are harmful? Any or all of the above?  Using case studies, learn how to navigate, guide and intervene in these scenarios.   
Becoming an Active Bystander: A Framework and Tools for Interrupting Harm
Intended audiences: Staff, faculty
Duration: 60-90 minutes
This fast-paced, engaging workshop uses a multi-media approach to explore the concepts of power, privilege, and microaggressions, and how they cans how up in our work. The facilitator will share several intervention strategies, and guide participants through practice activities designed to help them intervene to prevent or remedy harm in real-world scenarios. 
 Equity Series:
Intended audience(s): Faculty, staff
Duration: Minimum of 3 sessions, maximum of 6; 60 minutes/session
This customized training series is designed for departments who are ready to engage in long-term dialogue and change work to shift their norms and practices towards true inclusivity. Series topics may include: what we talk about when we talk about power, privilege, and oppression: building a common language; understanding implicit bias; action planning for justice and inclusivity.

Please note that due to staffing capacity, we are only able to offer a limited number of series per quarter. 
We welcome inquiries about training topics not listed above.
Additional Training and Workshop Resources
Interested in trainings on other topics? Many campus partners provide complementary programming.
Students:
Faculty:
Staff:
Training digest
In the 2017-18 academic year, the Office of Civil Rights and Title IX Compliance offered 123 training events.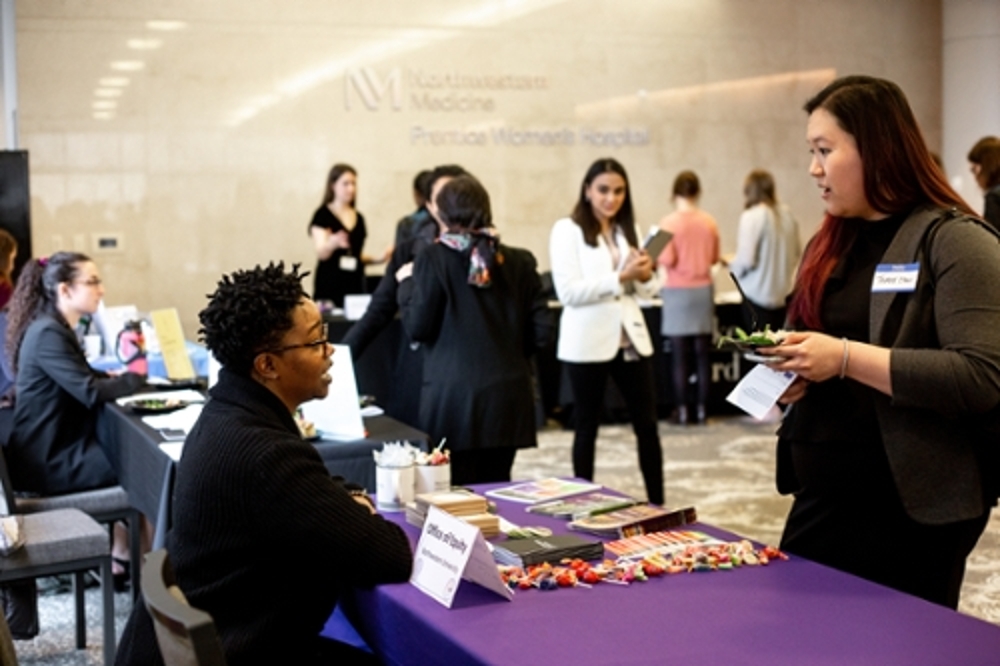 5,263 total individuals were trained.
Students: 4,134
Staff: 743
Faculty: 332
Other (third party vendors, Greek House Directors, etc): 54
31 outreach events
including tabling, participating in resource fairs, office hours around campus
Request a training
To schedule a training, please email OCRTrainings@northwestern.edu.