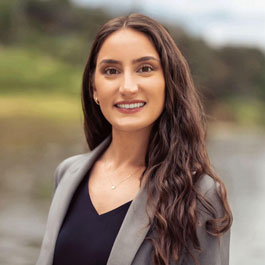 Associate Director, Operations
Leads the Operations Team
As an Associate Director of Operations, Eleni leads the NCA operations team by creating strategy for the team to effectively offer both in-person and virtual engagements to students through career development programming and technology. Eleni originally joined NCA in 2016 on the employer relations team and has returned to rejoin as a new member of the operations team in 2023.
Eleni earned a Masters of Science in Communication from Northwestern's School of Communication, and a Bachelor's degree in Elementary Education with a concentration English Language Arts from DePaul University. Before rejoining NCA, Eleni worked in philanthropy consulting.
In another life, Eleni might have been a greeting card writer, nail polish namer, or a bakery owner. She loves spending time with family, sharing food and recipes, and setting sights on new travel destinations.
Eleni's favorite advice for students: "Reach far and wide in your career exploration! There are so many different industries and job functions to learn about until you find the right fit for you. Remember, no one is stuck in their first job out of college, many people change careers throughout their lifetime so you can continue to explore again and again."