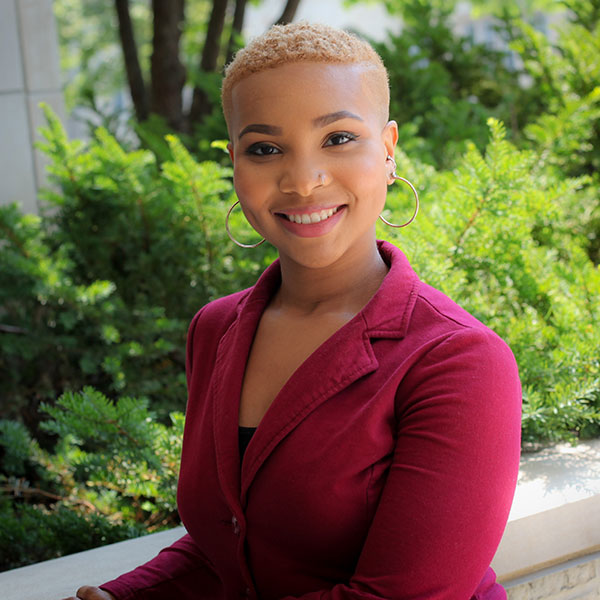 Assistant Director of Sexual Violence Response Services and Advocacy
Kyra Jones is the Assistant Director of Sexual Violence Response Services and Advocacy at the Center for Awareness, Response and Education (CARE), where she provides confidential, survivor-centered advocacy and support to Northwestern students. Additionally, she trains faculty staff and students on sexual violence prevention, supporting survivors, consent, and how interpersonal violence intersects with marginalized identities. She is also the advisor of SHAPE (Sexual Health and Assault Peer Educators).
Kyra graduated from Northwestern in 2014 with a bachelors degree in Theatre, Gender Studies, and Psychology. During her time at NU, she was a member of SHAPE, College Feminists, and Sex Week. She conducted independent research with CARE and the Gender and Sexuality Studies Department on sexual violence in the black community. She was also one of the first devising company members of Student Body. Outside of NU, Kyra volunteered with the YWCA and as a medical advocate with Resilience. After graduating she worked with BYP 100 to create an enthusiastic consent curriculum for their new member orientation. Kyra has partnered with and trained organizations around the country, including California Shakespeare Company, BYP 100, ChicagoStyle, SPACE on Ryder Farm, Marin Theatre Company, The Theatre Communication Group, Victory Garden's Theatre, the Cook County Government, and more.
In her work as an educator and advocate, Kyra is committed to intersectional feminism, sex positivity, centering survivors, and creating space for students of marginalized identities on Northwestern's campus. When Kyra isn't helping students at NU, you can usually find her on a film set - either acting, screenwriting, or smuggling craft services in her purse.