Meet the Executive VP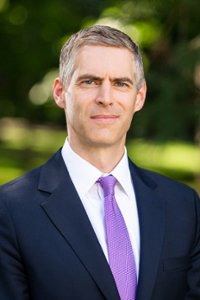 CRAIG A. JOHNSON, MBA
Executive Vice President
Northwestern University

Craig Johnson, executive vice president for Northwestern University, has served more than 18 years at Northwestern within the central budget office, the Feinberg School of Medicine, and now central administration. He was appointed to his current role in September 2018. In this role, Johnson collaborates with the provost to direct the University's business and financial operations, managing an annual operating budget of $2.4 billion and sponsored research activity of $702 million.

As Feinberg's Vice Dean and Chief Operating Officer, Johnson directed all business and operating functions at Feinberg, including a professional workforce of more than 1,800 employees and operating and capital budgets in excess of $700 million. During his tenure, Johnson worked to increase the integration and collaboration between the University and Northwestern Memorial HealthCare. He was also a principal architect of the integration of the Northwestern Medical Faculty Foundation into Northwestern Memorial HealthCare.

Johnson is also treasurer of the McGaw Medical Center of Northwestern University, a director on the board of Northwestern's insurance group, Rubicon Insurance Company, and an assistant professor in Feinberg's Department of Medical Education.

Before becoming Vice Dean and Chief Operating Officer, Johnson served as Feinberg's Vice Dean for Finance and Administration, Vice Dean for Budget and Finance, and Executive Director of Finance and Budget. He was also interim Chief Financial Officer at Northwestern Medical Group and has held various roles within the University's Office of Budget and Planning.   

Johnson earned his MBA in finance from Northwestern's Kellogg School of Management and his undergraduate degree, a Bachelor of Arts in Political Science, from Northwestern as well. He is a member of the Association of American Medical Colleges and the Association of Academic Health Centers.

He lives in Evanston with his wife, Meera Bhatia, also a Northwestern alumna, and their two daughters.