Branding is also visible in university websites. 
Some elements are required for all Northwestern websites. 
Sites should include the Northwestern wordmark. That wordmark should link back to the Northwestern home page. 
Sites should include the unit's contact information in the footer.
Northwestern's new web templates include additional features. On this page, find some basic guidelines for using the header and footer in these templates.
Visit our Departmental Templates website (NetID required) to access code and see examples for using the brand elements effectively for web.
Website Header
The header at the top of a webpage includes the Northwestern wordmark, the site title (presented in its brand lockup) and optional links.

Wordmark and Lockup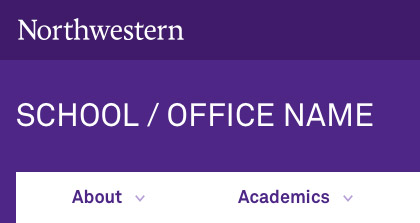 The white Northwestern wordmark appears in the top dark purple bar of the header.  Below, the Akkurat font is used to display department names.
Quick Links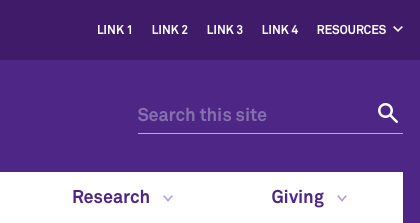 On the left side, optional departmental quick links and/or a drop-down resources menu with additional links can appear.
Website Footer
The footer at the bottom of a webpage includes required links, contact information and optional site-specific links.

Required Elements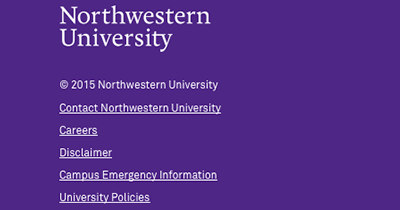 On the leftmost side in the footer, the white Northwestern University wordmark appears prominently above the required standard links.
Contact Information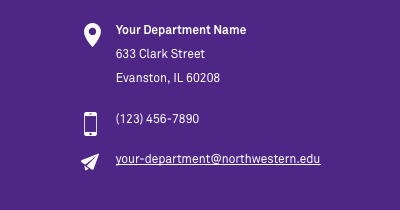 To the right of the standard links in the footer, departmental contact information is presented.
Social Media Center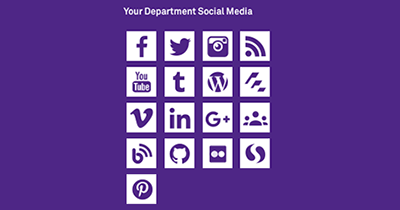 Social media icons related to your department appears next to contact information.
Additional Links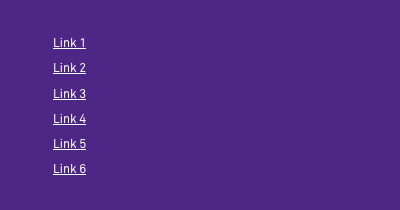 Optional additional site links can appear next to the Social Media Center.
Back to top