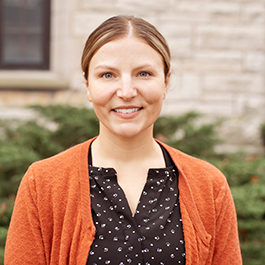 Access Coordinator - Evanston Campus
As an Access Coordinator for AccessibleNU, Anna coordinates reasonable accommodations for students on the Evanston Campus. Anna is passionate about promoting access and inclusion in higher education, and she values building connections with students, faculty, and campus partners.
In addition to accessibility in higher education, Anna enjoys engaging with a wide range of disability topics and further exploring her own disabled identity.
Prior to joining Northwestern, Anna worked as an Access Consultant at the University of Arizona. She also taught Cross Categorical Special Education for several years in a variety of settings.
Anna hold a Master's of Arts in Disability Studies from the City University of New York. Anna earned a Bachelor's of Science in Special Education from the University of Wisconsin-Madison. 
Outside of work, Anna enjoys reading, seeing live music, and being outside with her dog, a corgi mix.