Madrid Language & Area Studies
Madrid Language & Area Studies
Madrid, Spain
Program sponsor: IES Abroad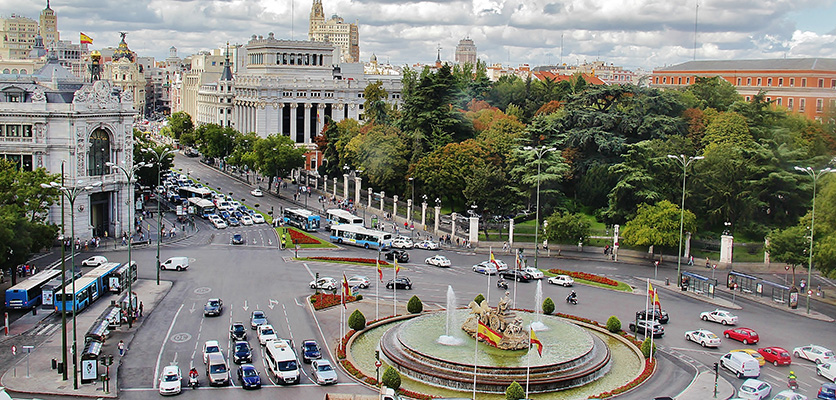 Program Requirements
Eligibility
Open to students from all majors with a minimum 2.75 GPA.
Language
2 years (completion of 121-3 or 125) or the equivalent of college-level Spanish.
Enrollment in a Spanish course at Northwestern within the academic year prior to the program start date.
Application
Apply for permission to study abroad
All students are required to apply for permission to study abroad. Learn more about the process, deadlines, and access the application on the apply to study abroad page.
Apply for your study abroad program
All affiliated programs and all Northwestern exchange programs require an additional external program application. Complete a IES Abroad application by the program's deadline.
Visa
Estimated Credit
4 - 6 Northwestern units. Visit Registration & Credit to learn more about credit types and requirements, registration, and other considerations.
Housing
Homestays – Live in Spanish homes with señoras or families and eat breakfast and one additional meal per day (either lunch or dinner) with your hosts when the program is in session. In many cases, more than one IES Abroad student is placed with a señora or family.
Apartments – Share apartments located in residential areas near the IES Abroad Madrid Center. Apartments are furnished, including a fully-equipped kitchen. Utilities, regular cleaning, and wireless Internet access are included. Space is limited, and meals are not included.
Colegios Mayores – Colegios Mayores are dorms located on the Complutense campus and throughout the city. This housing option includes up to 20 meals per week in student cafeterias. Space is limited. 
NOTE: Spots in Apartments and in the Colegios are limited and not guaranteed. Students should be flexible and understand that they may not be placed in their preferred housing. 
Program Cost
Study abroad program costs vary widely and may be more or less expensive than studying at Northwestern. Review the comparison.
Fall 2019: $26,525
Billed by Northwestern
Total: $17,150
Estimated Additional Costs
Housing & insurance: $4,110

Meals: $1,600
Airfare: $995
Books & supplies: $250

Local transportation: $260

Personal expenses: $2,000
Visa: $160
Total: $9,375
Financial Aid & Scholarships
Financial aid

 

is based on the total cost of the program, including all expenses outlined above.
Visit the

 

IES Abroad website

 

for information about their available scholarships.

 

Students are also encouraged to apply for other study abroad

 

scholarships.
Program Financial Details
This section outlines some of the billing and financial arrangements for affiliated IES Abroad programs, and is intended as a guide to help you navigate the financial aspects of your study abroad process. You should always refer to your program materials for the most current information and instructions.
Deposit
After you are accepted to an IES program, you will be required to pay a deposit directly to IES to confirm your participation on the program. It is your responsibility to pay the deposit; Northwestern cannot pay or waive deposits for affiliated programs.
Northwestern Invoice
Your Northwestern invoice will be issued through CAESAR on the regular quarterly schedule, and will include only your IES tuition and the NU study abroad fee. Refer to your program materials for the most current cost information.
If you receive financial aid and/or loans, these funds will continue to apply directly to your CAESAR account.
If you use the Northwestern 9PAY plan, you may continue to use 9PAY for your NU-billed study abroad expenses, but you should request a study abroad 9PAY estimate to have your plan set up appropriately.
IES Invoice
You will receive a separate invoice from IES for your housing and insurance abroad. It is your responsibility to pay IES directly by their deadline.
IES Deposit: If you paid a confirmation deposit, it will be credited to your IES invoice.
IES Scholarships: If you were awarded an IES scholarship, it will appear on your IES invoice, not on your Northwestern account.
Additional fees may apply for certain courses, housing add-ons, field trips, or other optional items related to your program. If applicable, you are responsible for paying any supplemental fees directly to IES.