Paris, France
Program sponsor: Northwestern and Institute for Field Education (IFE)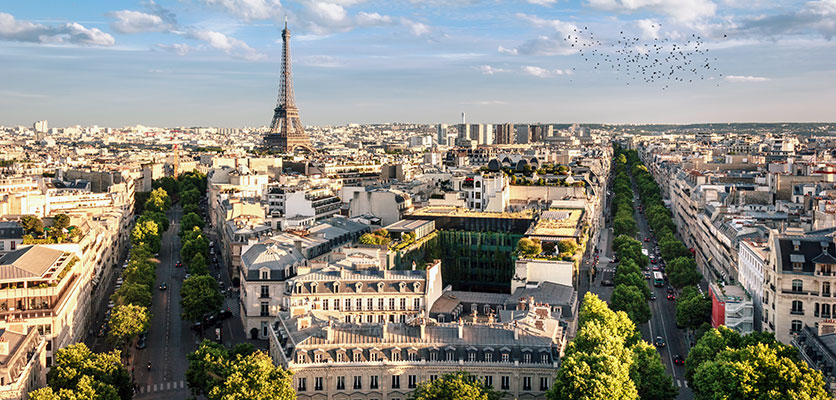 The French Field Study Program is a full-year program consisting of:
Fall semester at IFE's Paris Field Study & Internship program
During the fall, students participate in IFE's Paris Field Studies & Internship program, which offers an intensive internship/academic experience for a small group of study abroad students, with individualized placement for work and research in a variety of fields including economics, political science, development studies, international relations, education, social policy, visual arts, theatre, and more. Students receive a thorough grounding in French political, social, and cultural issues prior to the internship, in the form of two lecture-and-workshop courses: French Society: Issues and International Context and The Political Life of France Yesterday and Today. During the internship portion of the program (12 weeks), students complete a seminar course entitled Towards a European Society and report to a research advisor. The semester culminates in a long research paper written in French, based on the internship.
Spring semester at Sciences Po Exchange program
During the spring, students enroll directly at the Institut d'études politiques de Paris, or Sciences Po, one of the highest ranked institutions in the world for politics and international studies. Students take classes with local and other international students.
Linking the two programs
During the fall, students acquire confidence in their French language skills, familiarity with French academic and professional culture, and knowledge about a particular subject of interest. This prepares students to be able to take all of their social science and humanities courses at Sciences Po in French during the spring. Late in the fall term, IFE and GLO assist students with making a seamless transition between programs, through course and registration advising, continued housing arrangements, and visa assistance. Students also have the option of completing a second internship or continuing their fall internship during the January break period between the two programs.
Courses
Paris Field Study & Internship Program
Refer to the IFE website for information about academics.
Sciences Po Exchange
Students at Sciences Po Exchange have access to courses in six disciplines: economics, international relations, legal studies, history, political science, and humanities. Many courses offer comparative studies in an international context.
Students take a combination of lectures, seminars, elective courses, and workshops. Most students take five or six courses, and it is expected that French Field Studies students take all of their courses in French. Depending upon students' course selection, they may be eligible to obtain a Certificate in Social Sciences and Humanities on the Paris campus. Pursuing a certificate is possible in one semester, but it is not mandatory.
Program Requirements
Eligibility
Open to Northwestern students from all majors.
Language
Completion of at least French 121-3 or 125-3. Strongly recommended that students complete at two 200-level content courses prior to the program start.
Application
Apply for permission to study abroad
All students are required to apply for permission to study abroad. Learn more about the process, deadlines, and access the application on the apply to study abroad page.
Interview for your program


Interviews with the GLO adviser for this program and the French Department are required.

For the interview, please be prepared to:


Discuss your specific motivations for study abroad and reasons for selecting this program
Explain how the program and coursework aligns with your personal, academic, and/or professional interests, and
Ask informed follow-up questions about program details that you have reviewed on the program website

Apply for your study abroad program
All affiliated programs and all Northwestern exchange programs require an additional external program application.

IFE application: Check the program's website for the application and deadlines.
Sciences Po Exchange: The application will not be accessible until you are nominated by Northwestern to participate in the exchange. Please check the program's website for more details and deadlines.
Estimated Credit
12 - 14 Northwestern units for the full-year program. Visit Registration & Credit to learn more about credit types and requirements, registration, and other considerations.
Students will receive two transcripts: one issued by IFE and another issued by Sciences Po. Course credit will be eligible for transfer back to Northwestern as long as students earn course grades of C or better. Refer to the study abroad courses & credit page for information on the "C" grade equivalent and minimum credit requirement for this exchange program.
Housing
IFE will arrange student housing for the full year, either with a host family or in one of several foyers, or independent student residences.
Meals may or may not be included in IFE housing options.
Read through IFE's housing overview for more details about housing and meals.
Host Institution
Established in 1872, Sciences Po is one of Europe's most distinguished and well-known schools of public affairs. The majority of France's political leaders are alumni, including former presidents Jacques Chirac and François Mitterrand. The Paris campus, located near the Seine and within walking distance of Notre Dame de Paris and the Louvre, is the most famous of the seven Sciences Po undergraduate campuses located all over France.
While the university primarily conducts classes in French, the education has a strong international dimension: students are expected to study at least two foreign languages in addition to French, and many courses are offered in English. Forty percent of Sciences Po's student population is international, with 60 different nationalities represented.
Program Cost
Study abroad program costs vary widely and may be more or less expensive than studying at Northwestern. Review the comparison.
Full Year 2019-2020: $57,670
Billed by Northwestern
Fall Quarter:
Winter/Spring Quarters:
Estimated Additional Expenses
Room & board: $12,495
Airfare: $1,000
Local transportation: $800
Books & supplies: $300
Personal expenses: $3,100
Visa: $290
GeoBlue: $215
Total: $18,200
Financial Aid & Scholarships
Program Financial Details
This section outlines some of the billing and financial arrangements for Northwestern Programs, and is intended as a guide to help you navigate the financial aspects of your study abroad process. You should always refer to your program materials for the most current information and instructions. Contact your study abroad adviser (listed above) if you have any questions.
Program Confirmation
Northwestern Invoice
Student Visa Financial Certification
Withdrawal & Refund Policies