Global Engagement Studies Institute (GESI) in Ghana
Global Engagement Studies Institute (GESI) in Ghana
Winneba, Ghana
Program sponsor: Northwestern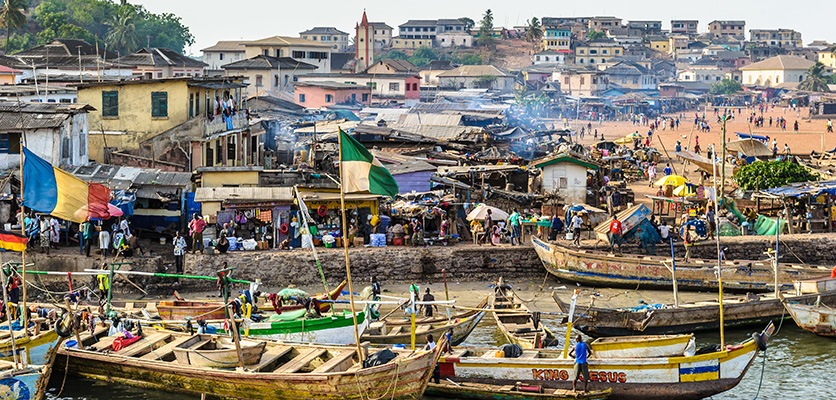 The Global Engagement Studies Institute (GESI) is a study abroad program that provides undergraduates with the knowledge, tools, and experiences to confront shared global challenges. Through service-learning in Bolivia, Costa Rica, Ghana, Guatemala, Uganda, or Vietnam, teams of students join the efforts of local organizations to advance community-driven change.
Work
Areas of work include education, youth advocacy, and non-profit management, especially grant writing and organizational research. This work is done in collaboration with Amizade and Challenging Heights, the internship host for GESI students in Ghana.
Location
As the first colonized country in sub-Saharan Africa to gain independence, Ghana is a nation that prides itself in its progress while rooting itself in tradition. GESI students will live and work in Winneba in central Ghana, which is between the capital city of Accra and Cape Coast. Winneba is a proud fishing village, and adjacent to the Muni Pomadze protected wildlife area.
Community experience
Most of the Ghanaian host families are considered middle income and are eager to involve students in their lives. Cooking is a central activity, and most food preparation takes time. While some homes will have stoves, many others cook on charcoal outside the home. Amizade offers daily Twi lessons for students, as well as opportunities to learn traditional drumming and dancing and hear local community speakers.
Courses
COMM ST 395: Doing Development: The Theory and Practice of Community Engagement
This course helps GESI students strengthen local community development efforts by identifying and harnessing existing community assets. The practical lessons in this course include asset mapping and identifying processes that improve intra- and inter-team communication and relationships. The objectives of this course are (1) to prepare students to successfully execute community engagement work with host organizations or local host communities, (2) to provide structure for their work in-country (3) to teach students how to reflect collaboratively and meaningfully on their learning experiences when they return. Through this method of preparation, implementation, and evaluation, students become more competent collaborative change-agents in their communities and institutions.
INTL ST 393-SA: Development in the Global Context
This course combines intensive classroom and structured experiential learning to analyze community-based international development. Students examine fundamental debates over the nature and goals of international development, alternative approaches to development work, the common assumptions employed in development work, the effects of power in development work, and the theory and practice of community-based development. In addition, students will be introduced to the political, social, economic, cultural and geographic characteristics of each host country that are most relevant for development. During fieldwork, students apply these principles to design and implement a small-scale community development project with peers and community partners. Through a series of written assignments, students use their time in the field to conduct interviews and additional research to analyze core questions and controversies within international development. Students reconvene at Northwestern to examine individual experiences and research in the field, as well as compare experiences with GESI peers who worked in other countries and different development sectors. Students draw lessons from these comparisons and articulate their own arguments about international development work.
Program Requirements
Eligibility
Language
No language requirement is needed.
Application
Apply for permission to study abroad
All students are required to apply for permission to study abroad. Learn more about the process, deadlines, and access the application on the apply to study abroad page.
Estimated Credit
2 Northwestern units per semester. Visit Registration & Credit to learn more about credit types and requirements, registration, and other considerations.
Housing
While in-country, students stay with carefully vetted local community homestay families. Amenities at homestays vary by country and household; however, all families are expected to provide a bed, safe drinking water and food, and generally sanitary living conditions for students. Electricity and running water may not be available at all sites. When possible, each GESI student will be placed in his or her own individual homestay unless a student indicates a special reason for wishing to be placed with another student or unless circumstances at the site do not enable students to be placed individually.
Host Institution
Amizade, GESI's newest partner, partners with local NGO Peace Humanity International (PHI) and local leadership in the rural village of Winneba, Ghana. Together, they are committed to creating global learning and development opportunities for the region. Amizade, along with PHI, organizes a variety of projects, including the construction of primary or secondary schools, roads, and hospitals, as well as reforestation, literacy projects, community development, oil palm production, and AIDS awareness campaigns.
In Ghana, GESI students will learn about and be part of community organizing--gaining important leadership and management skills--and contribute to a reforestation campaign aimed at restoring the Sweet River.
Financial Aid & Scholarships
Students applying to this program are eligible to apply for GESI scholarships and are also encouraged to apply for other funding opportunities.
Northwestern students receiving financial aid during the academic year may be eligible to apply for summer aid for this program. Visit the summer aid & scholarships page for additional information.
Program Financial Details
This section outlines some of the billing and financial arrangements for Northwestern Global Engagement Studies Institute (GESI) programs, and is intended as a guide to help you navigate the financial aspects of your study abroad process. You should always refer to your program materials for the most current information and instructions.
Program Confirmation
Once you are approved to attend a GESI program, you will need to complete a Program Confirmation form to confirm your participation. Northwestern students attending GESI programs are not required to pay a confirmation deposit, but will be charged a cancellation fee for withdrawing from the program after confirming.
Northwestern Invoice
Your Northwestern invoice will be issued through CAESAR on the regular quarterly schedule, and will include your GESI program fee (tuition, room/board, insurance), as well as your program airfare.
If you receive GESI scholarships, financial aid, and/or loans, these funds will apply directly to your NU account.
Withdrawal & Refund Policies