Studying Abroad with a Silk Social Enterprise
Studying Abroad with a Silk Social Enterprise
February 10, 2020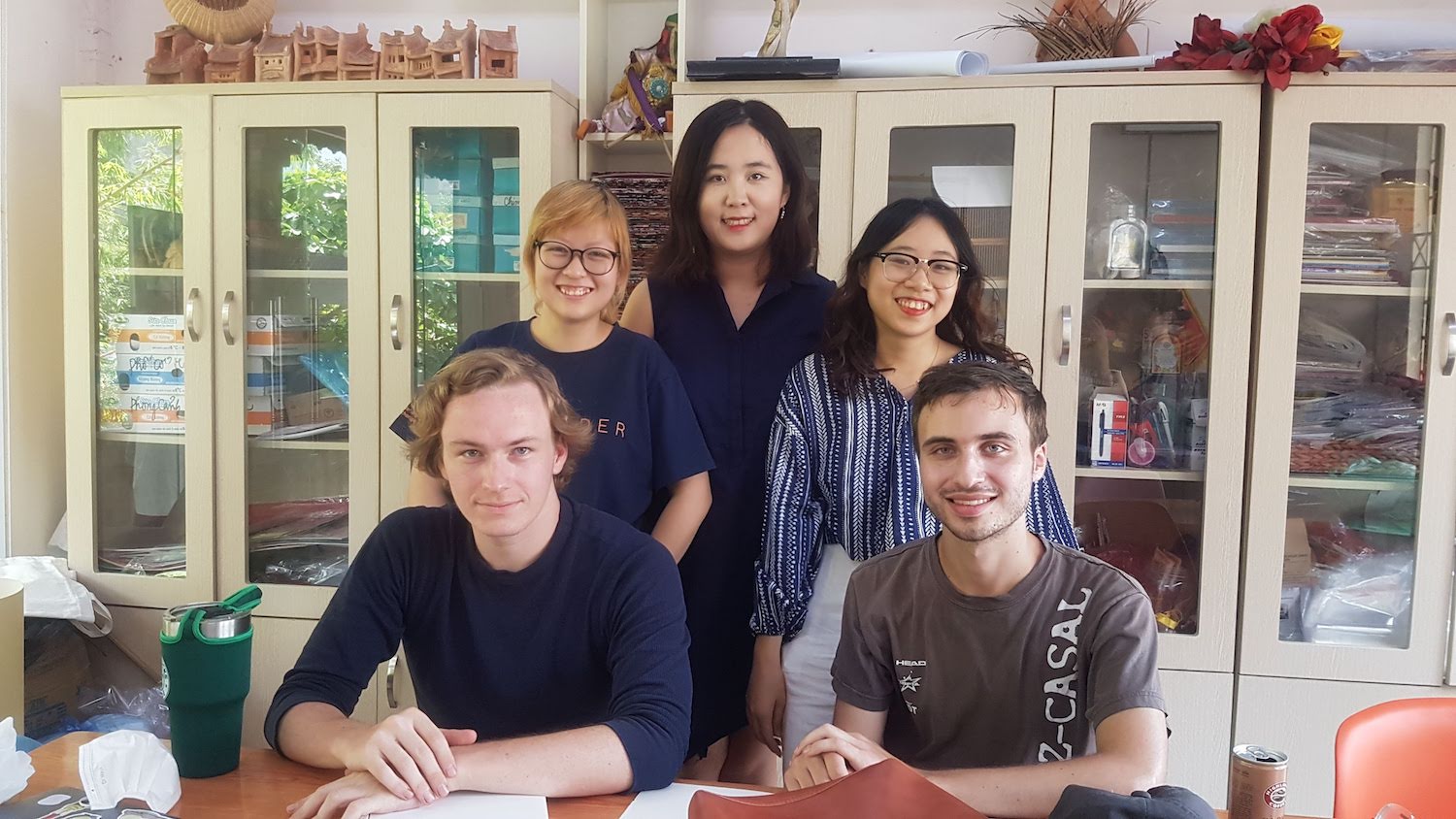 Students never expected that their work from an eight-week summer study abroad internship in Vietnam would be translated into five languages and distributed across 143 countries. By working in an interdisciplinary team, learning from Northwestern professors and local buddies, and listening to the needs of their host organization, they accomplished this and more.
In the summer of 2019, three Northwestern students partnered with two local university students to intern with Vụn Art to learn firsthand about Vietnamese culture and the challenges of starting a small nonprofit while helping to market its goods to the broader Vietnamese community and share the amazing work being done by its employees. The experience was part of the Global Engagement Studies Institute (GESI) program, in which Northwestern students earn academic credit while interning abroad with community-based nonprofits and NGOs.
A Unique Mission
While managing a stuffed animal factory, Lê Việt Cường noticed that employees with physical limitations often struggled with some of the manual labor required (e.g., placing an eye on a stuffed bear). He was inspired to develop Vụn Art in order to create employment opportunities accessible to all community members, regardless of Vụn Art preserves traditional Vietnamese art as a social enterprise. learning, developmental, or physical difference.
Vụn Art is located in Hanoi's Vạn Phúc silk village, Vietnam's oldest producer of silk with a history dating back to the ninth century. Its mission is to provide opportunities for those who find it difficult to obtain employment, preserving traditional Vietnamese art as a social enterprise. Vụn Art employs individuals with disabilities to convert silk scraps and trimmings left over from garment and accessory production into collages and other artwork. When GESI students Joshua Henderson (Weinberg & Bienen '19), Ari Mostow (Weinberg '21), and Jiayi Shen (NU-Qatar '22) arrived in Vietnam, they were partnered with two local Vietnamese college students, Hà Anh Nguyễn and Phương Thảo Trần. The group quickly learned that Vụn Art was encountering challenges.
"The first day we met with Mr. Cường, he said we needed to increase sales by 2000 percent," said Henderson. "It was a joke, but there was an element of seriousness to it." Cường had invested much of his personal savings into the organization, and if products didn't start selling quickly, both Vụn Art and Cường would be in trouble. Vụn Art did not yet have the robust infrastructure to market or raise awareness about its products.
Getting to Work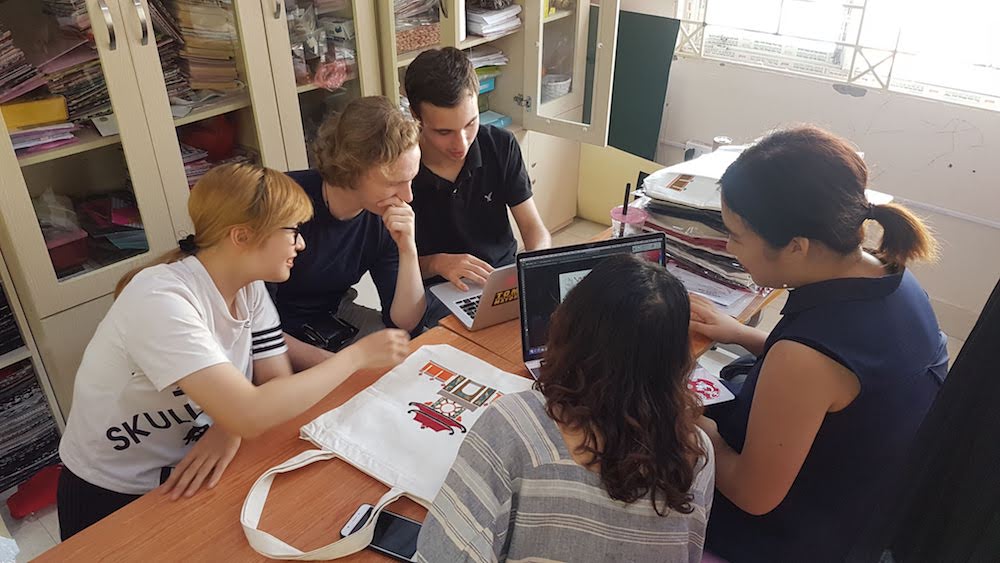 "I immediately felt that there was a story to communicate," said Mostow. "The question became: how do we get potential customers involved in the mission so they can see how great this company is?"
As an interdisciplinary team — the students' majors range from economics and performance studies to journalism, radio/television/film studies, and English — the GESI team set to work learning how to best market Vụn Art within Vietnamese culture. Their Vietnamese teammates were key to this effort: their knowledge of Vietnamese culture, language, and business proved vital to the team's understanding of context and their strategies. Nguyễn and Trần had signed up to participate in a multicultural internship team as "local buddies" through Abroader, one of GESI's international partners. For Nguyễn and Trần, this was a way to learn about and participate in community development.
Vụn Art's business advisor encouraged the group to heavily leverage the fact that the art was made by people with learning, developmental, and physical difference; however, Cường was adamant that the art should sell on its own merit, telling the students he would rather the business not succeed than turn into a charity. After thoughtful conversations with the founder about how to best support the organization's needs and its core identity, the students struck a balance.
"We ended up not hiding the fact that Vụn Art hires people with disabilities; we think that's part of what makes it such an incredible place," said Henderson. "But we didn't make that the sole focus of the pitches that we made."
With the help of their local buddies, the interns began marketing Vụn Art's products in the Vạn Phúc community, following up promising leads with more detailed pitches. New Vụn Art clients included primary and secondary education centers interested in do-it-yourself collage kits, embassies, and major Hanoi hotels interested in both community engagement and displaying Vụn Art artwork in lobbies and rooms.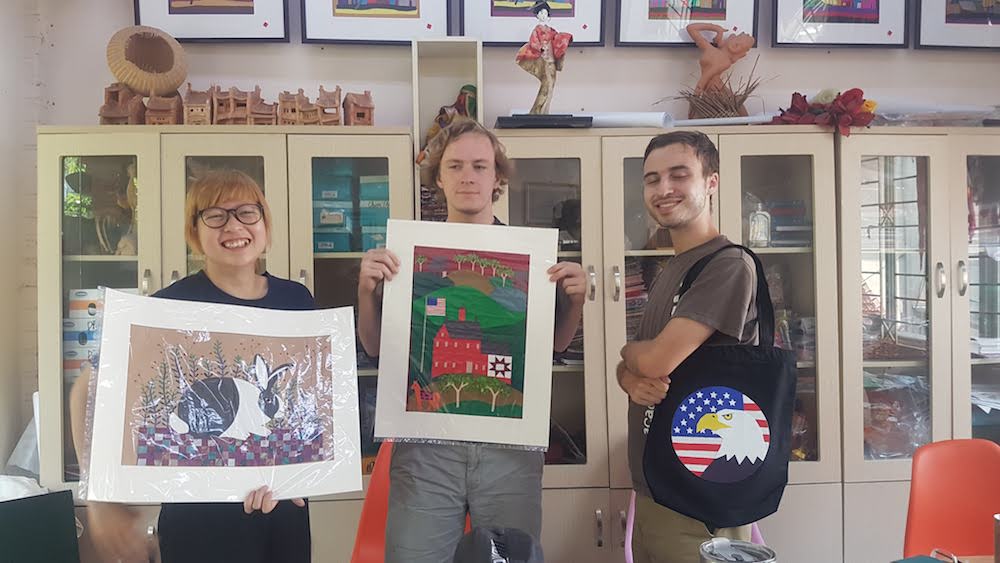 One of the students' most notable successes was the U.S. Embassy in Hanoi, which placed a large order from Vụn Art for souvenirs to hand out to dignitaries. The students worked closely with Cường to decide which images would best represent the U.S. on the products.
The group also developed a long-term infrastructure Vụn Art could use to continue building sustainable relationships, including "email templates, brochures, presentations — in both English and Vietnamese — plus a manual at the end that explained how to use those assets and summarized the results of our eight weeks there."
These assets are still being used, and GESI students' other contributions to Vụn Art continue to yield exciting results for the organization. An article written by the students about Vụn Art was published in the UNESCO Creative Cities initiative and distributed across 143 countries, while another article was featured in the Vietnam Creative Hubs Initiative's book Creating Hanoi's Creative Cultural Space. Both publications have helped put Vụn Art on the map of Vietnamese creators and artists and promote Vụn Art's mission to a wider local and international audience.
Students' Takeaways
For Mostow, studying abroad with GESI was his first time being in a foreign country as anything other than a tourist. He says, "Both of my majors, English and radio/television/film studies, are topics that deal heavily in empathy and understanding peoples' different circumstances. On a personal level, [the GESI experience] was a very meaningful time in my life to work with the people at Vụn Art across the differences we had. Professionally, it was an opportunity to use a lot of skills that I never thought I would be able to use on a project like this."
Henderson also experienced deeper understanding about development work: "A lot of times, researchers think development is all about creating top-down policy frameworks for economic development, and there is an element of truth to that; you need governments to coordinate and have policies that deal with things like tariffs and business investment. But you can't capture the nuances of individual communities in policy frameworks. Our work in Vietnam was hugely important [for me], because prior to that, I had only been in the research sphere." Henderson plans to pursue a master's degree in international development, informed by his grassroots development experience with GESI.