IEW 2020: November 16 - 20
Welcome to International Education Week at Northwestern!
Overview
International Education Week (IEW), November 16-20, 2020, is an opportunity to celebrate the benefits of international education and exchange worldwide. This joint initiative of the U.S. Department of State and the U.S. Department of Education is part of efforts to promote programs that prepare Americans & U.S. based students for a global environment and attract future leaders from abroad to study, learn, & exchange experiences.
Events
In collaboration with our program partners, student ambassadors, and returned students, GLO is celebrating IEW this year by hosting a series of events and content centered around daily themes. Most live sessions will be recorded, and the recording will replace the live information once the event has passed.
Be sure to tune into the GLO Instagram account for special student stories within the themes!
Money Monday
1:00 PM, CST
This is an open drop-in hour for any questions regarding study abroad and financial aid. Krista Buda Bethel, Senior Assistant Director in the Office of Undergraduate Financial Aid, will be available to answer any questions.
2:00 PM, CST
Join us for a detailed overview of funded summer research opportunities supported by the Office of Undergraduate Research. We will discuss programs (Undergraduate Research Grants, Undergraduate Research Assistant Program, Language Grants) as well as timelines to get involved and how to take these opportunities abroad.
On-Demand
View detailed information about finances in relation to study abroad and fellowships.
November 18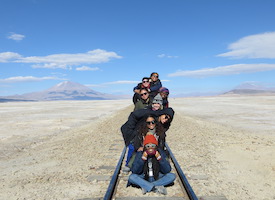 What About Me Wednesday
Today is about you! The content today will focus on specific majors, fields of study, or identities.
What About Me Wednesday
TBT Thursday
12:00 PM, CST
What are our NU alumni doing with their hard won language skills? What did they do post-Northwestern to continue to engage with other languages and cultures? Join our Northwestern alumni panelists as they talk about their language and study abroad experiences and how they have continued to maintain their involvement with other languages and cultures.
2:00 PM, CST
Three DIS alumni hold a conversation about their experiences studying abroad -- how they chose DIS, what they did while abroad, what they wish they'd known, and more.
7:00 PM, CST
Tune into a panel of graduated Northwestern students reflecting on how their decision to study abroad influenced their career path post graduation.
Foodie Friday
12:00 PM, CST
Join the Tel Aviv University US Outreach Coordinator and learn how to make a classic Israeli Shakshuka! While we cook we can chat about study abroad at TAU International and all things Israeli. Yalla!
4:00 PM, CST
Tune into the GLO Instagram for a special takeover by GLO Student Ambassador Kendall Gail. Kendall will answer questions about dietary restrictions and food allergies while abroad!
10 AM, CST- Cindy & 2 PM, CST- Gabi
Come see Gabi and Cindy, the GLO fellows, cook some of their favorite international dishes!