Upcoming CWA Events
You can find more writing events around campus on the Center's calendar too. For a listing of past CWA events, visit the events archive page. 
To get directions and maps on how to get to our various events CLICK HERE for our MAP PAGE.
Books by CWA speakers can usually be purchased at the events, or beforehand from Northwestern's Norris Bookstore.
Wednesday, May 5, 2010 6:00-7:30 pm
Block Museum of Art, 40 Arts Circle Drive, Evanston, IL 60208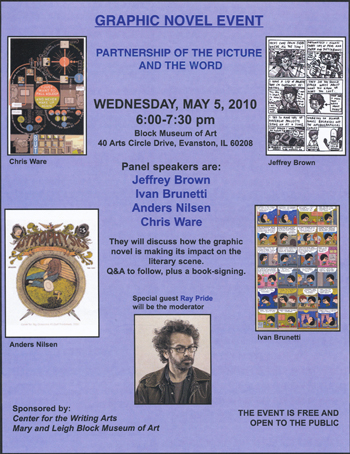 GRAPHIC NOVEL EVENT- Partnership of the Picture and the Word
Join four of the most popular graphic novelists on the scene as they discuss the impact of the graphic novel on the literary world.
Our panel of speakers are:
Jeffrey Brown 
Ivan Brunetti
Anders Nilsen
Chris Ware
Special guest, Ray Pride, film editor and contributor to New City, Variety.com, and Movie City Indie, will be the moderator. He is also an established photographer and photographic essayist.
Q&A to follow, plus a book-signing. 
Sponsored by:
The Center for the Writing Arts
Mary and Leigh Block Museum of Art