Ethnic Dining
Chairperson: Catherine Launay
E-mail: RGL201@northwestern.edu
Phone: 847-869-8053
If exploring ethnic restaurants in the Chicago area interests you, join other members of the Northwestern family as we taste food from different cuisines. Restaurant selections and dates will be emailed/mailed to Circle members. Please phone or email Catherine Launay for more information (RGL201@northwestern.edu or 847-869-8053).
Enjoy an Indonesian Rice Table!
Join the Circle's Ethnic Dining Group for dinner on Sunday, April 27 at 6:30 p.m. at Rickshaw Republic 2312 N. Lincoln Avenue (just south of Fullerton), Chicago
Free parking in former Children's Memorial Hospital parking structure just north of the restaurant on Lincoln
Rickshaw Republic is Chicago's only Indonesian restaurant, and their specialty is the rice table (or rijsttafel). A rice table is a lavish assortment of Indonesian dishes – appetizers and main courses -- served family style. This cuisine from Southeast Asia is a little reminiscent of Thai food (but NOT spicy!), yet remains very distinctive.
Dinner is $36/person, BYOB (tax and tip not included)
Please RSVP by April 20th to Elisabeth Malthouse by phone (773-465-8411) or email (emalthouse@yahoo.com)
Past Meals:
Big Jones
Big Jones specializes in Southern heirloom cooking. Chef Paul Fehribach focuses on sustainably grown crops, sustainable seafood and contemporary American kitchen techniques. He is known for conducting extensive research in old Southern cookbooks and serving rigorously traditional fare.
Taste of Peru
On Sunday, November 4, a large party of 23 was feasted at Taste of Peru, 6545 North Clark Street, Chicago. We were enthusiastically welcomed by the owner, Cesar Izquierdo, who came to the United States from Peru in 1974 and has been serving delicious Peruvian food at Taste of Chicago since 1998. Aside from Peruvians living in Chicago, the restaurant has built up an enthusiastic neighborhood clientele and was even awarded a Bib Gourmand mention in the Michelin Guide for Chicago.
Cesar began by serving us the most famous Peruvian cocktail, the Pisco sour, made from Pisco – Peruvian brandy – lime juice, sugar, water, and topped with egg whites and a sprinkle of cinnamon. We were then served a lavish spread of four Peruvian appetizers served family style, including Peruvian tamales (very different from the Mexican variety), beef skewers, ocopa – a Peruvian potato preparation, and ceviche. This was followed by a lavish spread of main dishes including beef braised in beer, shredded chicken in creamy walnut sauce, and a special green-colored paella – the green was from herbs used to cook the rice. Finally, those who still had room could sample three desserts, including purple corn pudding and home made ice cream featuring Peruvian tropical fruit. The diners were unanimous in their appreciation of the rich flavor and variety of Peruvian cuisine, and expressed hearty thanks to Señor Izquierdo.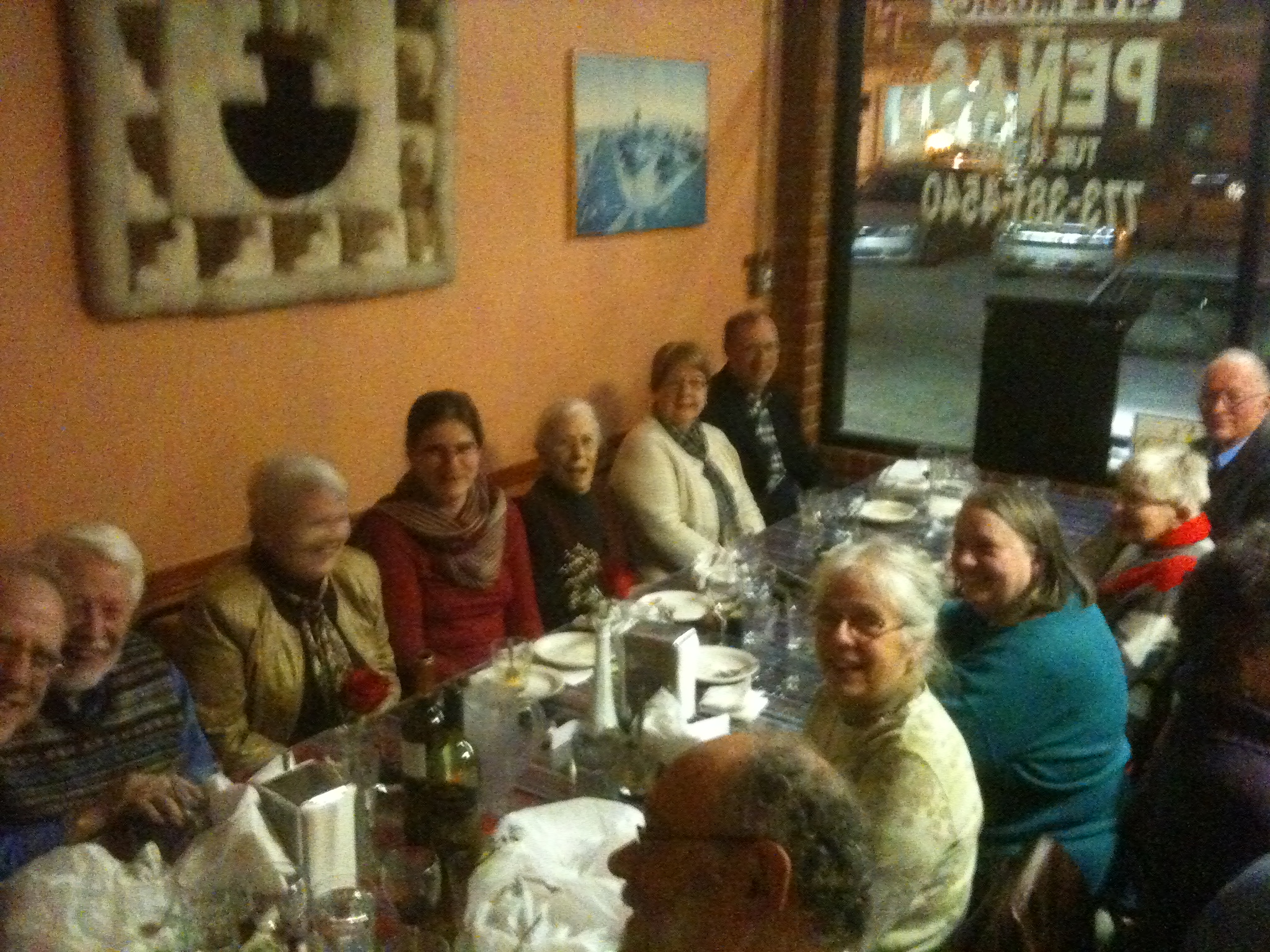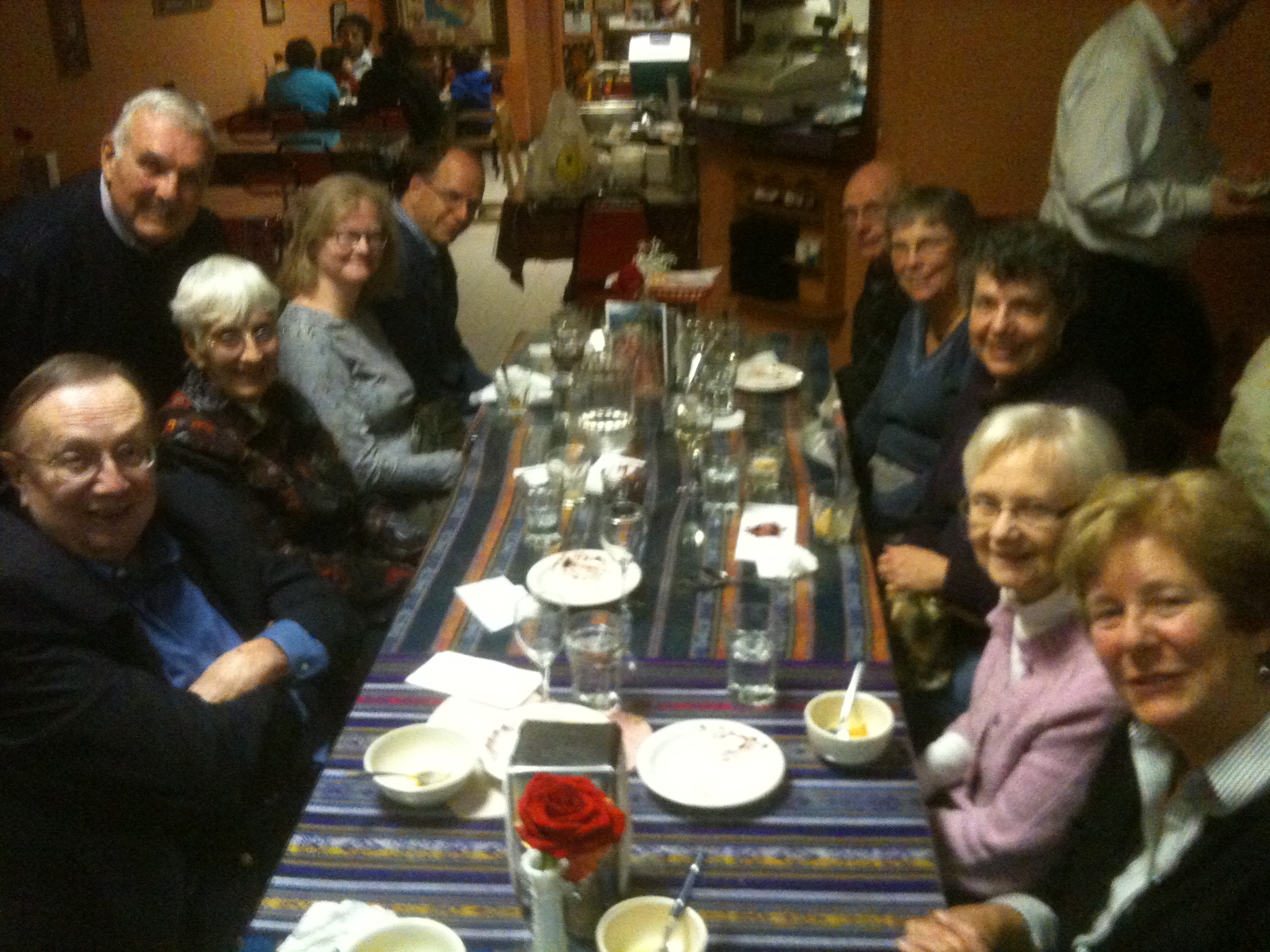 Below is a picture of our outing to Masouleh Restaurant. Thanks to Joshin Yamada for the photo.