Water
Northwestern uses 423 million gallons of water every year. That's enough to fill nearly 641 Olympic sized swimming pools. Northwestern is working to reduce its campus water usage by at least 25 percent compared to a 2005 baseline, as well as limit its impact on Lake Michigan and beyond.
Here is how we work to achieve these goals:
Install water-saving devices in campus buildings
We aim to create infrastructure to lessen water waste. We've installed the following water-saving equipment on campus:
Toilets, faucets, and showerheads fitted with low-water-flow fixtures.
Toilets with dual low and high flush valves in newer buildings.
We closely monitor water use across campus, and any abnormalities are quickly investigated and remedied.
Irrigate less
We have installed a myriad of technologies such as solar clocks, rain gauges, and moisture sensors that calculate air moisture to determine when it will rain to avoid wasting water, time, and energy. We diligently follow the City of Evanston's irrigation restrictions on weekdays from 10:00 am to 4:00 pm from May 15 to September 15. This restriction is in effect because plants do not absorb water efficiently, so the water evaporates and is wasted.
Monitor stormwater and runoff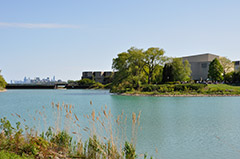 As our campus is located on the shores of Lake Michigan, we're dedicated to doing our part to keep it clean and healthy. We focus particularly on stormwater collection and management to prevent harmful run-off. The use of synthetic fertilizer is kept to a minimum, and we frequently test soil and custom blend fertilizer that provides only the lacking nutrients. Conserving water and reducing storm runoff is another priority at Northwestern.
Water is recycled in creative ways through bioswales, green roofs, and daisy basins. Bioswales are landscaping mechanisms that use terracing to naturally draw water to specific locations. Northwestern has bioswales near the athletic fields and parking lots to move water to plants that need it. Green roofs, which minimize stormwater runoff, are found at the Wild Roots Garden on the Norris University Center South Lawn and at the Ford Motor Company Engineering Design Center. Daisy basins are fixtures unique to Northwestern that divert stormwater runoff. Though most of them are underground, some older daisy basins are visible above ground near Norris University Center.
Back to top