Land
The Evanston and Chicago campuses span 265 acres. We aim to keep our campuses, including Lake Michigan, as healthy as possible.
Preserving campus green space
Since its founding, Northwestern University has preserved and maintained natural green space in the campus landscape. Today, we work to preserve these natural spaces by:
Planting adaptive, low-maintenance, and drought-tolerant plants where possible to limit the need for fertilizer and irrigation.
Choosing perennial species in landscape design and using horticulture and plant husbandry techniques when planting to diversify species, ensuring the landscape is less susceptible to invasive diseases and insects.
Nurturing existing plants, like our mature trees, as well as transplanting plants and trees to alternative locations when absolutely necessary.
Employing Integrated Pest Management (IPM) to combat pests and weeds. This involves researching the invasive pest or plant and coming up with ways to solve the problem with chemicals as the last resort. Some methods involve cultivating more grass to crowd out invasive plants, handpicking weeds, introducing predators like nematodes, or pruning dead wood to prevent insect invasion.
Encouraging walking campus by constructing wide, plentiful walkways and placing new parking lots on the perimeter of campus where possible.
Experimenting with "no mow" grass near Harris Hall to reduce the use of fossil fuels in weekly mowings. The "no mow" grass only requires mowing once a year.
Limiting impact on Lake Michigan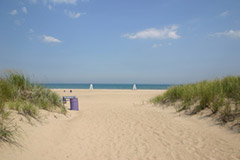 Our proximity to Lake Michigan is one of our campuses greatest assets. Our goal is to limit any impact we may have on this important body of water. This includes:
Monitoring and extracting invasive plants and bugs on campus.
Preventing erosion by planting native plants along shoreline to hold soil together.
Back to top