Greenhouse Gas and Climate
Greenhouse Gas and Climate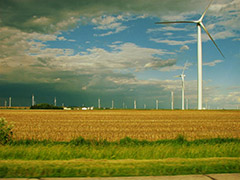 Our interim goal is to reduce campus greenhouse gas (GHG) emissions by 30 percent from our 2005 baseline of 156,550 metric tons of CO2 by 2016. Facilities Management (FM) recently assessed the emissions from NU's two utility plants in Evanston and Chicago, which burn natural gas to heat and cool our facilities, and from the purchased electricity supplying the two campuses. We are also in the process of assessing the emissions from our commuting students, faculty, and staff so the University can continue to facilitate programs that support the use of clean and efficient methods of transit like cycling, rail, and bus transit.

Here are a few of the ways we aim to reduce our GHG emissions:
Pursuing alternative energy options
Northwestern has made a significant investment in clean, greenhouse gas-free energy through the purchase of Green-E certified Renewable Energy Certificates (RECs), offsetting 50 percent of our purchased electricity totaling 122,000 megawatt-hours (kWh). The University also supported the installation of a 16.8 kilowatt solar array in partnership with Engineers for a Sustainable World (ESW) to feed clean energy to our Ford Engineering labs. Learn more about these initiatives on the Renewable Energy page.
Maximizing energy efficiency
Northwestern has made significant investments in improving the efficiency of its buildings and central utility plants. Northwestern has committed over $40 million as a part of the Northwestern Energy Retrofit Fund (NERF) to energy conservation projects across our two campuses. This commitment to energy efficiency has decreased the amount of electricity purchased from the grid by almost five percent, even as our square footage of occupied space has increased. This commitment to energy efficiency has resulted in a reduction in our natural gas usage and lowered our GHG emissions by more than 58,000 tons a year! Learn more about these initiatives on the Energy Efficiency page.
Encouraging sustainable habits
We've created a number of programs to encourage behaviors that conserve energy in the classroom, offices, and in on-campus residences. The annual Green Cup competition, a one-month contest between campus residences to conserve the most water and energy, resulted in a reduction of 55,979 kWh of electricity in 2013. We also encourage our campus community to take the Green Pledge, certify their "green" residence or office, and make sustainable purchasing decisions.
Back to top