Renewable Energy
We're continually researching ways to increase our use of renewable energy with the help of some of the worlds' leading engineering firms.
Renewable Energy Certificates

The University supports green power by matching 122,000 megawatt hours of its annual energy use with Green-e Certified Renewable Energy Certificates (RECs). This green power commitment represents 50 percent of the University's total annual electricity use and places NU in the U.S. Environmental Protection Agency's (EPA) Green Power Leadership Club. Northwestern is a top purchaser in the Big Ten, contributing to the conference being recognized by EPA as 2013-2014 Collective Conference Champions for using green power.
Solar energy
The Centennial Solar Panel System, a solar photovoltaic array on the roof of Northwestern's Ford Motor Company Engineering Design Center, has been installed and connected to the building's electric grid. The 16.8-kilowatt panel display has the potential to generate as much as 20,000 kilowatt-hours (kWh) of electricity per year, enough to power a computer lab in Ford and reduce the University's reliance on the power grid. Check out how much energy the solar panel produces daily!
Cogeneration
NU is implementing an ambitious cogeneration project at our Central Utility Plant, installing a 7 million watt turbine with heat recovery that will provide cleaner electricity as well as heating and cooling to our Evanston Campus. This project will reduce our greenhouse gas emissions by 17,900 metric tons and has the added benefit of providing backup generation to our critical research facilities.
Geothermal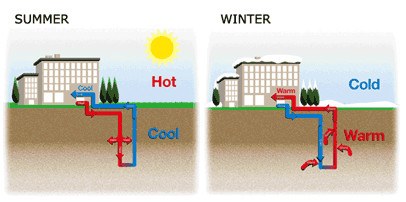 Geothermal energy is thermal energy that uses the earth as a heat source (in the winter) or a heat sink (in the summer). By pumping water more than 600 feet underground, this allows us to efficiently heat and cool the New Kellogg School of Management Building and Visitor's Center.
Back to top