Energy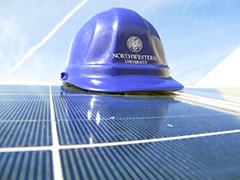 Currently our campuses consume almost 250 million kilowatt-hours (kWh) of electricity annually, which results in greenhouse gas (GHG) emissions equivalent to more than 60,000 passenger vehicles. We're continually exploring ways to conserve energy and reduce the impact of the energy that we do use.
Renewable energy
NU is utilizing several renewable energy opportunities, such as geothermal heating and cooling, solar panels, renewable energy certificates, and cogeneration. Be sure to learn more.
Energy efficiency
From turning off lights and electronics when leaving a room to putting in a service request for Facilities Management to adjust your space's temperature, learn how you can help Northwestern save energy and what projects the University is taking on to reduce its carbon footprint.
Green IT
Be sure to reduce your energy usage when using electronics by unplugging and updating your electronics power management settings and turning them off when not in use.
Back to top