Energy Efficiency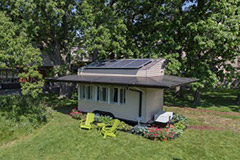 Northwestern University leadership committed almost $40 million over the next three years to the Northwestern Energy Retrofit Fund (NERF) to support impactful energy conservation projects that benefit the university both environmentally and economically.

To identify and address energy use in our buildings, Northwestern's Facilities Management department has worked closely with leading engineering and energy firms to identify and prioritize energy-related projects on the Evanston and Chicago campuses. The University tracks the savings and environmental impact of these projects with the Sustainability Impact Tracker tool that assures environmentally preferable materials and methods are used and assesses the positive impacts of projects, such as energy conservation, water conservation, and waste reduction. Examples of projects include updated lighting across our university, significant updates to our central utility plant, and campus-wide revamps to central heating and cooling systems.

Read more about our energy-saving procedures, which have decreased the amount of electricity purchased from the grid by almost five percent:
Purchasing energy-efficient equipment
All University equipment purchases must be ENERGY STAR® certified for superior energy efficiency (or, if there isn't an ENERGY STAR certification, equipment must be highly efficient).
Installing occupancy sensors
Occupancy sensors significantly reduce electrical usage by automatically turning off lights when campus spaces are not occupied. They have been installed in a number of campus offices, conference rooms, classrooms, and restrooms – approximately 6,500 on the Evanston campus, 500 on the Chicago campus, and 800 in the Feinberg School of Medicine. The sensors have a dual-mode of operation (infra-red and ultrasonic) to ensure that lights remain on while the space is occupied.
De-lamping and lighting modifications
Site surveys conducted in 2006 and 2007 identified that many spaces at the University had either too many lighting fixtures or inefficient lighting. Since approximately one-third of annual electrical usage can be attributed to lighting, outdated and inefficient lighting across both campuses has been replaced with new technologies that offer improved light output at reduced energy consumption. Through this initiative, over 95 percent of NU's campuses have been relamped!
Updating HVAC systems
We are working to revamp old, outdated heating, ventilation, and air conditioning (HVAC) systems for maximum efficiency without sacrificing the comfort of building occupants. We are decommissioning unused fume hoods, better controlling the ventilation of unoccupied building spaces, and upgrading current steam and chilled water generation and distribution systems to operate in accordance with industry best practices.
Controlling temperature
The University's energy management system sets indoor temperature at 68°F during the heating season and at 76°F during the cooling season. Occupants who control the temperatures in their spaces are expected to follow this policy by using these ranges. During off-hours and on weekends and holidays, the temperature in most non-residential spaces is allowed to drop to 55°F before heating occurs and rise to 86°F before cooling occurs.
Powering down lights and equipment
We encourage individuals to turn off lights when exiting unoccupied rooms and to turn off office equipment (including personal computers, where possible) at the end of the day. Facilities Management employees will turn off lights and equipment (other than personal computers and fax machines) that have not been turned off by occupants at the end of the standard business day.
Back to top