Buildings
Our campus is constantly growing and updating to meet the needs of our community, which often leads to the construction of new buildings or large renovation projects to make campus space more functional.
We aim to make eco-friendly design and building choices in campus construction projects and to employ energy saving systems in university buildings.
LEED Certification 
The U.S. Green Building Council's Leadership in Energy and Environmental Design (LEED) rating system is a framework for executing green building design and solutions to make buildings more energy-efficient, produce less waste, and provide a healthier indoor environment for occupants. Northwestern will target LEED gold certification for all new construction and major renovations.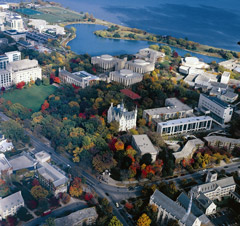 LEED-certified projects on our campus include:
Gold certified
Harris Hall
Northwestern University Sailing Center
Richard and Barbara Silverman Hall for Molecular Therapeutics & Diagnostics
Rogers House
Ryan Center for the Musical Arts
Searle Hall
Wieboldt Hall
Segal Visitor's Center
Silver certified
630 Emerson
Ford Motor Company Engineering Design Center
In progress
Athletic/Recreation Complex
Kellogg School of Management, New Building
Kresge Hall
Parking Garage
Back to top