Research Opportunities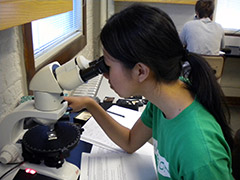 Since the Institute for Sustainability and Energy at Northwestern's (ISEN) founding in 2008, the University has received more than $100 million in sponsored energy and sustainability research. More than 300 funding awards have been granted in several areas including: advocacy, carbon capture and sequestration, climate, energy efficiency, nuclear, energy policy, recycling, solar, storage, sustainability, and transportation. ISEN accepts proposals twice each academic year from students and student groups for specific projects, research, or other activities related to ISEN's mission.
Undergraduate students
Weinberg College offers grants to support undergraduate students in independent research, creative work, and presentations at academic conferences. These grants are funded by Weinberg College alumni, whose support make these undergraduate research grants possible.
The Office of Undergraduate Research provides grants of up to $1,000 to pay for student research expenses to do an independent academic or creative project in any field.
Graduate students
The Graduate School (TGS) provides most doctoral degree-seeking students with the opportunity to receive fellowships and scholarships. Made possible by general appropriations, endowments, and other outside sources, fellowships typically provide students with a monthly stipend and a scholarship to pay for tuition costs. Most incoming doctoral students receive some form of fellowship and scholarship for the first year of study.

The Graduate Research Grant (GRG) is intended to help PhD and MFA students in historically underfunded disciplines meet expenses related to scholarly research and creative endeavors.
Back to top