Current News
This page provides procurement-related news including featured stories from our Dollars & Sense newsletter, current updates related to our Preferred Vendors, and upcoming events. You can also view News Stories By Year or view Back Issues of our newsletter for more information. 
Featured Stories
Regular Features
New Contracts
Procurement and Payment Services (PPS) conducts many Invitations to Bid to establish contracts for use by departments and schools. These contracts may be for use by all departments and schools, which are Preferred Vendors, or they may be contracts for use by specific departments and schools. Contracts are established based on the results of a formal, competitive Invitation to Bid process. See the Preferred Vendor List for more information on all vendor contracts.
Recent Contracts Established by PPS
Siteimprove Campus Agreement
PPS and Global Marketing and Communications have recently finalized a campus-wide agreement with Siteimprove for its Content Suite software. This software can help identify broken links, misspellings, and web accessibility (ADA and WCAG) problems within Northwestern web pages, and can also help with SEO and policy issues. Departments and schools will be able to use the software at no charge to check an unlimited number of web pages.
Please contact Global Marketing and Communications' Web Communications team at webcomm-support@northwestern.edu to request a demo of the software and register for access to the tool. For any other questions, contact PPS at 847.491.8120 or procurement@northwestern.edu. 
New Customs Broker
As a member of the Big Ten Academic Alliance, Northwestern participates in contracts selected by this association. PPS has been working with BTAA over the past several months to complete a competitive bid for a new Customs Brokerage contract. We are pleased to announce that DB Schenker is the new preferred vendor for Customs Brokerage services for the University. DB Schenker customs brokerage offers the following:
Compliance with legislative requirements
Efficient customs clearance process through Customs
Improved import shipment tracking
Comprehensive insurance reporting mechanisms
Dedicated customer service
For detailed instructions including pricing and how to request customs brokerage service, please see please see the DB Schenker Preferred Vendor page.
Calibration Services for Scales/pH Meters/Miscellaneous Equipment
We are pleased to announce a University Preferred Vendor program for Scales/pH Meters/miscellaneous equipment calibrations with AL-TAR (via Fisher Scientific). AL-TAR certified technicians will be on-site every quarter in the Fisher Stockrooms and will be able to calibrate a wide range of equipment. Please see the Scales and Balances Calibration section of the Preferred Vendor List for a full list of types of equipment and pricing information. Service comes with 1-year warranty including labor and parts. Service will be performed in the Fisher stockrooms and orders will be processed in iBuyNU via the Fisher punchout catalog.

To see pricing and sign up for service on one of the scheduled dates please see the Scales and Balances Calibration section of the Preferred Vendor List. For service: sign up for a service date online and create an iBuyNU cart per the specified part #s in Fisher's catalog. For services that will be performed in the lab, a PO# will be required before the date of service. For services where equipment can be brought down to the stockroom, a PO# can be created the day of. For questions about service please contact our Fisher representative, Jarod Schweighart. For questions about the contract please contact Kim Li, Procurement Administrator.
Hard Drive Data Recovery Services
After a competitive bidding process, DriveSavers, Inc. is the new Preferred Vendor for Hard Drive Data Recovery Services. DriveSavers is based in California and has been servicing departments at Northwestern since 1995. They have the appropriate security in place to protect the University's data while it's off-site at a secure facility. DriveSavers recovers data from all storage devices and all operating systems. They also offer secure and permanent data destruction and provide electronic discovery and digital forensic services.
Northwestern has a local DriveSavers account representative who is available to meet with schools and units to answer any questions. For information on the contract including vendor contact info, pricing, and how to request service, please see the Preferred Vendor List. For further questions please contact Kim Li, Procurement Administrator. 
Preferred Software Reseller/VAR – SHI
At the conclusion of a formal bid process that included committee members from departments and schools across the University, SHI has been selected as the vendor that continues to offer the best overall value for the reselling of third-party software. This five-year Preferred Vendor contract extension continues a partnership that has lasted more than ten years. Founded in 1989, SHI is a leading vendor in the software resale space and is currently the largest Minority-and-Woman-Owned Business Enterprise (MWBE) in the United States.
SHI's iBuyNU catalog has recently been refreshed to include new titles and manufacturers, however, Northwestern shoppers or requesters who are not able to find a specific title can call 888.591.3400 or reach out to teamshi@shi.com with questions or to obtain a quote. For information on the contract, including vendor contact information, pricing, and how to request service, please see the SHI Preferred Vendor page. For further questions, please contact Dave Zohfeld, Procurement Administrator. 
Special Event Security Guards for University Police
A formal Invitation to Bid (ITB) was conducted by PPS on behalf of Northwestern Safety and Security. A total of seven security companies were invited to submit proposals; four vendors responded. Based on all information gathered through the comprehensive bid process – which included the bidder's quality of proposal, capabilities, experience with higher education, pricing and more – the evaluation committee was responsible for interpreting all information submitted, determining the quality of each vendor's response, and the ability to sufficiently service the University.
Luna Security Services, Inc. demonstrated they can meet Northwestern's need based on all of the factors included in the ITB. Luna represents more than 23 years of security services; 3 years of guest services work at Northwestern for Athletics; minority-owned business; and completive prices. PPS believes Luna represents the best value for Northwestern.
Other contracts recently established by PPS:
Fuel Oil – Bell Fuels
Kellogg Magazine printing
Shuttle services
Changes to Existing Contracts
Updates to existing contracts established by Procurement and Payment Services (PPS) may include new contact information for dedicated representatives, service updates, and newly available products. For questions about these updates, please view the individual vendor pages on the Preferred Vendor List or contact PPS at 847.491.8120 or procurement@northwestern.edu.  
Recent Changes Made to Contracts Established by PPS
Apple School Manager
Apple's Device Enrollment Program (DEP) and Volume Purchase Program (VPP) have recently merged into the Apple School Manager (ASM) program. ASM lets end-users customize content, configure automatic device enrollment into mobile device management (MDM) solutions, and create accounts for students, faculty, and staff. Apple School Manager is accessible on the web and is designed for technology managers, IT administrators, staff, and instructors. Further information regarding ASM, including sign-up instructions and where to find additional help can be found on the Apple Preferred Vendor page.
New SHI Customer Service Contact
Anthony Pichalski has replaced Neil Cotter as the main SHI customer service contact for Northwestern. However, the SHI customer service email address remains teamshi@shi.com. Mike Lamdagan also remains the main sales contact for SHI and can be reached at 815.603.1004 or michael_lamdagan@shi.com. Further information regarding SHI can be found on the SHI Preferred Vendor page.
New Dell Sales Representative
Tony Hylton has replaced Mark Friedman as the main Account Representative for Northwestern. Tony can be reached at 331.385.9210 or antonio.hylton@dell.com. For day-to-day questions and customer service issues, the main point of contact continues to be James Carranco, who can be reached at 512.513.9196 or northwesternuniversityteam@dell.com. Contact information will remain updated on the Dell Preferred Vendor page.
New PGI Account Representative
Dana Nikoloulis is the new PGI Northwestern Account Representative. Dana can be reached at 312.794.6703 or dana.nikoloulis@pgi.com. For day-to-day questions and customer service issues, the main point of contact continues to be our dedicated PGI customer service team, who can be reached at 888.569.3848 or northwestern@pgi.com. Further information regarding PGI can be found at on the PGI Preferred Vendor page.
New Databank IMX Representative
Stephen Brooks is the new Northwestern Databank IMX contract representative. Stephen can be reached at 484.801.0419 or sbrooks@databankimx.com. Further information regarding Databank IMX can be found on the Databank IMX Vendor page.
Apple Catalog Update
Apple is now authorized to sell the Apple Watch product line through their B2B web portals, including iBuyNU. Please see the Apple catalog in iBuyNU for details, including pricing. Further information regarding Apple can be found on the Apple Preferred Vendor page.
CDWG Order Tracking
CDWG has recently added enhanced order tracking to their catalog in iBuyNU. Once in the CDWG catalog, end-users can track their order with a Northwestern PO#. Look for the "Find My Order" section in the center of the CDWG catalog homepage. 
The enhanced tracking includes ship date and a delivery date estimate. Rather than having to go through a UPS, USPS, or FedEx site, the catalog can now display this information directly in iBuyNU. For complicated situations such as backorders, delivery and shipping estimates will continue to be available by emailing our account team at angieandbrian@cdwg.com. Further information regarding CDWG can be found on the CDWG Preferred Vendor page.
Hyatt Centric Chicago Magnificent Mile
The Hyatt Chicago Magnificent Mile rebranded on January 20, 2017, to the new Hyatt lifestyle brand, Hyatt Centric Chicago Magnificent Mile. Improvements to the guest room amenities have also occurred to further elevate the guest's experience. To learn more about these new amenities and hotel information, visit the Hyatt Centric Chicago Magnificent Mile Preferred Vendor page.
Affymetrix Products Available through Life Technologies
As of January 23, 2017, direct orders for the following life science products are now sold and processed by Life Technologies:
Affymetrix™ microarray solutions
USB™ molecular biology enzymes, reagents, and PCR products
eBioscience™ immunology antibodies, reagents, and assays
For the full list of Affymetrix product categories now available in the Life Technologies iBuyNU catalog, please visit the Life Technologies Preferred Vendor page.
Canteen Connect
Keep an eye out for Canteen Connect stickers on vending machines. These stickers provide information on how to connect with the local service team through the QR Code (barcode photo), text, or phone. Use this information to find nutrition information, obtain a refund, report a service need, or provide survey feedback. For further Canteen vending questions, contact PPS at 847.491.8120 or procurement@northwestern.edu.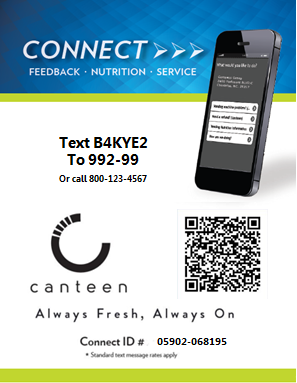 Contracts We're Working On
Procurement and Payment Services (PPS) is always working to establish Preferred Vendor contracts that best serve the needs of all Northwestern departments and schools. These are a combination of new contracts and timely rebids of current contracts. For questions about these or other bids, please contact PPS at 847.491.8120 or procurement@northwestern.edu. 
Food service
Address validation software
HR timekeeping software
Background check services
Hazardous waste services
Maintenance services for reverse osmosis systems
Water treatment services
Overhead door maintenance
Pre-qualified lists for marketing/communications, IT consultants, and online training content developers
Refresh of pre-qualified list of construction service providers
Carpet and flooring
Shredding services
Procurement Diversity Highlights
Small Business Outreach and Development at Northwestern
Procurement and Payment Services (PPS) joined Facilities Management in creating the first Facilities Management Supplier Symposium. The objective of the Symposium was to introduce small businesses to large contractors for procurement opportunities. The event was held on November 21, 2016, at the Allen Center and was a huge success. More than 150 attendees from the construction, engineering, and facilities management industries attended. The Symposium included an inclusion panel, as well as presentations from leading consultants and internal business leaders. The day concluded with a networking lunch. As a result of the Symposium, we have suppliers currently building business relationships with prime suppliers and securing contract opportunities. Stay tuned for future updates regarding the results of the Symposium and other Procurement Diversity efforts.
To learn more about the Procurement Diversity Program, please contact Gwen Turner, Director of Procurement Diversity, at 847.467.6333.
Sustainability Highlights
High-Capacity Cartridges
For some laser jet printers, Office Depot OfficeMax (ODOM) sells both standard-capacity and high-capacity ink cartridges. High-capacity cartridges offer the following benefits:
Higher page yields (less-frequent ordering and printer interactions)
Lower cost-per-page (buying-in-bulk cost savings)
Same high-quality and reliability of standard-capacity cartridges
Leveraging high-capacity (XSKU) cartridges offer a higher page yield compared to the standard (ASKU) cartridges, which lowers the overall cost per page. By simply changing the way you buy, you can save up to 35% per cartridge ordered. For example, CE250A yields approximately 5,000 pages, while CE250X yields approximately 10,500 pages.
For questions regarding ODOM products, please contact our dedicated representative Gerilyn Hocking at 312.803.4341. 
Wildcard Advantage Updates & Employee Discounts
New Wildcard Advantage businesses for Fall 2017:
Educational Discounts
Many vendors offer educational discounts! When working with a vendor to obtain a quote, remember to ask if an educational discount can be applied.
Back to top