On Broadway: Morgan Karr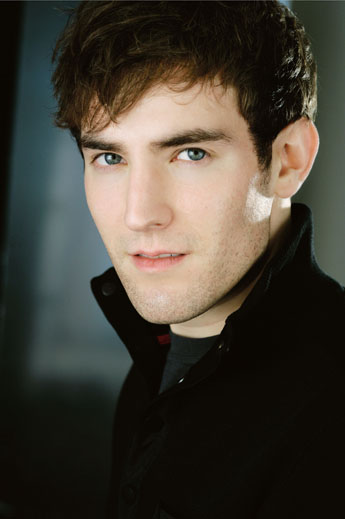 When Morgan Karr auditioned in 2007 for a role in Spring Awakening, he had never heard a song from the 2007 Tony Award–winning musical. But he decided to take a chance anyway.
Karr attended an open call in Chicago for the show's national tour and Broadway company and sang a contemporary piece that he often performed with Purple Haze, one of Northwestern's a cappella groups.
After an initial callback, Karr waited all summer long but heard nothing. He had almost given up hope when finally he was asked to audition again, in New York City. One morning in November 2007 he flew from Chicago to New York at 6 a.m., auditioned for 20 minutes onstage at the Eugene O'Neill Theater and hopped a plane right back to Chicago. Karr rushed to Evanston and walked through the stage door of Cahn Auditorium just in time to perform as a gospel soloist and quartet member in that night's student performance of Boys from Syracuse (Watch The Making of the Boys from Syracuse.)
Twenty minutes wasn't enough to cast him, but the directors of Spring Awakening said they wanted to see more for their touring cast. Karr spent three days over spring break working closely with the creators, directors and producers of the musical, reading and singing for nearly every character. Rather than hiring Karr for the tour, the directors offered him a spot on Broadway instead.
"It was such an honor to be in the final cast of a show that really redefined musical theater," Karr says of the show that explores themes of adolescence and sexuality. "It took a classic controversial text and turned it into a universal story for today's audiences. Grandparents and teenagers could relate to something together — whether or not people wanted to actually discuss these issues."
For more than six months, Karr understudied nearly every role in Spring Awakening on Broadway, performing at least once for each character before the show closed last January. At the same time he was able to finish up his theater degree and graduate from Northwestern ahead of schedule.
"I worked hard to get into college and earn that degree," Karr says. "It means a lot to my family."
Karr's mother got him his first professional acting gig when he was just 9 years old in Nashville. Although his résumé paled in comparison with those of the other kids auditioning for the musical Oliver!, Karr impressed the directors.
"They asked me to do a bell kick, but I couldn't," Karr remembers. "But I tried to do it with the most conviction possible and a smile on my face, hoping that might win them over."
Karr only got a small role in that musical (he still remembers his one line), but it convinced him to keep performing. He recorded backup vocals for country music singers and did voice-over work for audio bibles. But it wasn't until he got into Northwestern's theater "cherub" program in high school that he decided he wanted to be an actor.
Although he only graduated a few months ago (and he will be returning to Northwestern for Commencement), Karr has already established himself in the Broadway community. He recently performed "An Awfully Big Adventure," an autobiographical solo concert of country, R&B and Broadway tunes, at Joe's Pub, a well-known public theater in New York. The event sold out and helped him raise more than $1,000 for Alzheimer's research, in honor of his grandmother, Ann Roth, who recently passed away.
"My grandfather took care of my grandmother every day for 13 years by himself," Karr says. "The show is an homage to him and her for inspiring me and being such great role models."
Karr's great-grandfather was a vaudeville performer and never let Karr's grandfather go into entertainment because of his experiences. So when "Papa Pete" got to see his grandson perform in Spring Awakening, tears started welling up.
"He always says he lives vicariously through me," Karr says with a smile. "When he saw the show, he told me he could die happy now after watching his grandson perform on a Broadway stage."
After the success of Karr's one-man show, organizers at Joe's Pub invited him to return and do the show as many times as he'd like. He says people are constantly telling him how much they can relate to it.
"That's what I love hearing as a performer," Karr says. "I hope it's a story that touches people, not because it's mine but because it's theirs."
— Ryan Morton (J08)