A Week with the Real Wildcats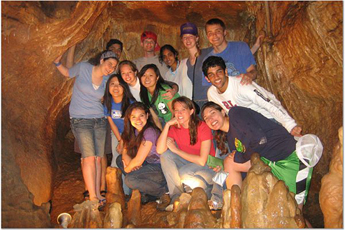 Last March, 13 Northwestern undergrads decided to forgo the typical spring break for a trip on the wild side. Through Alternative Student Break, a student organization that runs volunteer trips during winter and spring breaks, the group spent a week at Turpentine Creek Wildlife Refuge in the Ozark Mountains. The center rescues abandoned, abused and neglected big cats and other exotic animals from across the country.
In the 16 years since Turpentine Creek was founded, its staff has traveled to at least 17 different states to rescue more than 300 animals, mostly big cats — lions, tigers, leopards, cougars and bobcats — but also bears, badgers and a monkey among other animals. This spring, in one five-week stretch alone, the Turpentine Creek staff rescued seven cats.
"It's a lot bigger problem than most people realize," says Emily McCormack, volunteer coordinator at Turpentine Creek. She estimates that there are hundreds of thousands of exotic animals in private hands. The U.S. Humane Society estimates that there are at least 5,000, and perhaps as many as 15,000, tigers in private hands in the United States, easily surpassing the 4,000 that exist in the wild.
Turpentine Creek is now home to 120 cats. At the refuge in Eureka Springs, Ark., the Northwestern volunteers built animal cages, cleaned out habitats and even sorted the meat for the cats. Despite windburn, blisters and exhaustion, the Northwestern volunteers agreed that this was the best way they could have spent their spring break.
Other ASB destinations included the African Community Center of Denver, a refugee resettlement program, Harvest Farm, a 100-acre farm and rehabilitation center for men in Wellington, Colo., and Lower Nine, a New Orleans organization that trains residents of and volunteers in the Lower Ninth Ward in skills such as basic carpentry, roofing, plumbing, electrical wiring and sheetrock finishing.
— Trisha Faulkner (WCAS11)
Photos courtesy of Turpentine Creek trip participants.