Passings
Story Tools
Share this story
Knight Aldrich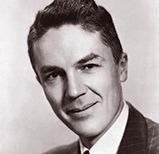 C. Knight Aldrich '40 MD, Charlottesville, Va., Nov. 3, at age 103.
A pioneer in integrating psychiatry into general medical practice, Dr. Aldrich became the first chair of the psychiatry department at the University of Chicago in 1955. He advocated for prioritizing psychiatric training in the medical school's curriculum and revolutionized how mental illness is taught to medical students.
After nine years at the University of Chicago, he took a break from academia to care for psychiatric patients at mental health centers in New Jersey and Virginia. He later taught psychiatry and family medicine for several years at the University of Virginia.
Dr. Aldrich is survived by his daughter, Carol; his son, Robert; eight grandchildren; and three great-grandchildren.
Charles Eugster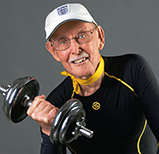 Charles M.E. Eugster '50 DDS, Zurich, April 26, at age 97. A retired dentist, Dr. Eugster took up rowing at age 63, started bodybuilding at 87 and became a record-breaking sprinter at age 95. "You are never too old to try something new," he wrote in his book, Age Is Just a Number: What a 97-Year-Old Record Breaker Can Teach Us About Growing Older (Little, Brown and Company, 2018). 
Dr. Eugster set several world records into his late 90s. The world's oldest competitive rower, he won 40 gold medals in World Masters rowing and held multiple World Strenflex titles. At age 95, Dr. Eugster became the World Masters record holder in the 200-meter indoor and 400-meter outdoor sprinting events for his age group.
Born in London just after World War I, Dr. Eugster suffered a number of debilitating illnesses as a child, including scarlet fever and whooping cough. He served in the Swiss army and then ran a dental practice in Zurich. 
He decided to get fit after he looked in the mirror in his 50s and realized he was a "balding, self-satisfied lump of lard," he told the Daily Telegraph last year. He started rowing competitively, training six days a week. He retired from his dental practice at age 75 and became a fitness blogger. In his mid-80s, he started working out with a former Mr. Universe to put on muscle. Inspired by vanity, Dr. Eugster admitted, he wanted an "Adonis body to turn the heads of the sexy young 70-year-old girls on the beach."
In recent years Dr. Eugster became a sought-after speaker on the benefits of staying active into older old age. His TEDxZurich talk, "Why Bodybuilding at Age 93 Is a Great Idea," has been viewed more than 800,000 times. 
Dr. Eugster is survived by his two sons, Andre and Christian. 
William Jakes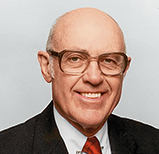 William C. Jakes '44, '47 MA, '49 PhD, Stowe, Vt., Sept. 30, at age 95. Known for his lifetime commitment to the communication sciences, Mr. Jakes is credited with laying down the basic physical and systemic principles that helped make possible the mobile cellular systems.
After graduating from Northwestern, Mr. Jakes served in the U.S. Navy aboard the USS Boxer. After completing his doctorate, he joined the AT&T Bell Labs, where he spent a decade researching microwave antennas and propagation. He designed and operated Bell Labs' station for participation in Project Echo, the first successful satellite communication experiment bouncing microwaves from coast to coast off an orbiting 100-foot diameter balloon.  
In the following years, Mr. Jakes became a department head charged with studying mobile radio. He led research propagation, antennas and systems to characterize and with the hostile mobile radio environment.
In 1987 he was co-recipient of the Institute of Electrical and Electronics Engineers Alexander Graham Bell Medal, along with Richard Frenkiel and Joe Engel, for their fundamental contributions to the theory, design and deployment of cellular mobile communications systems.
Mr. Jakes is survived by his wife, Mary; his children, Robert and Elizabeth; and three grandchildren, Andrew, Emma and Hannah.
Jean Harvey Lightfoot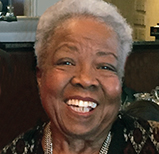 Jean Harvey Lightfoot '73 PhD, Chicago, Nov. 15, at age 81.
A powerful soprano with a wide vocal range, Ms. Lightfoot performed with the famed Fisk Jubilee Singers, an a cappella ensemble at Fisk University that has performed spirituals around the world since 1871.
She toured Europe with the singing group in 1956, performing 66 concerts in 56 days. The tour included a performance for royalty in Portugal and an eight-encore show in Rome.
Ms. Lightfoot continued to perform spirituals with the John W. Work Chorale in Chicago. She went on to earn a doctorate from Northwestern, where she studied education and urban anthropology.
She taught English and served as an administrator at Hyde Park High School, Kennedy-King College and the University of Illinois at Chicago. She retired as dean of students at Columbia College.
Ms. Lightfoot is survived by her daughter, Jaronda, and two granddaughters, Jaya and Jorie.
Michele Marsh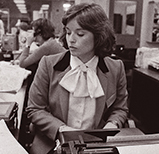 Michele M. Marsh '76, South Kent, Conn., Oct. 17, at age 63.
A five-time Emmy Award–winning newscaster, Ms. Marsh enjoyed a more than two-decade run as an anchor on nightly programs on CBS and NBC stations in New York City. 
Ms. Marsh studied theater at Northwestern and participated in the Dolphin Show. After graduating in 1976, she landed her first assignment, at WABI-TV, the CBS affiliate in Bangor, Maine, where Ms. Marsh reported in the field and anchored the late-night newscast. She even ran the teleprompter with her feet while on the air. 
Ms. Marsh moved on to KSAT-TV, the ABC affiliate in San Antonio, and then, in August 1979, to WCBS-TV in New York City. She started as a reporter and quickly became co-anchor of the 11 O'Clock Report. Ms. Marsh, then 25, was the youngest of five women who claimed anchor positions at the five New York TV stations with late-night news programs. 
She worked as an anchor and correspondent for WCBS for 17 years until she was let go in 1996 as part of move to improve sagging ratings. Ms. Marsh quickly joined WNBC, where she anchored until 2003.
The pioneering news anchor won five local Emmy Awards for news programming and helped pave the way for women in television news.
Ms. Marsh is survived by her second husband, P.H. Nargeolet, and a son, John Paschall '14. 
Michele Marsh in the WCBS-TV newsroom in New York City in 1980. Marsh was one of a group of women who took over news anchor roles in New York in the late 1970s.
Gerald McDonald
Gerald O. McDonald '43, '47 MD, '48 GME, McLean, Va., Oct. 12, at age 94.
After serving as a captain in the U.S. Army Medical Corps, Dr. McDonald worked as a surgeon with the Veterans Administration in Chicago until 1984, when he became deputy director of surgical services at the VA in Washington, D.C. He developed instruments used for abdominal surgery and in the late 1950s worked on groundbreaking cancer research that led to the development of chemotherapy.
During the Chicago Blackhawks renaissance in the 1960s, Dr. McDonald served as the team physician, a gig he landed after providing emergency care for an injured player. He also helped treat an injured policeman during the 1968 Democratic Convention riots in Grant Park.
Dr. McDonald is survived by his wife of 33 years, Irma; their two sons, Nuri and Sushil; their grandchildren, Jaden and Parker; his children, Elizabeth, Sandra and Gerald; his four grandchildren; and his two great-grandchildren. 
Mary Mix McDonald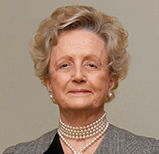 Mary Mix McDonald '46, New Berlin, N.Y., Dec. 12, at age 92.
Ms. McDonald became the first Republican woman elected to the Cook County Board of Commissioners in 1974. When she stepped down from the board after two decades, she was lauded for writing legislation that served as national models, including ordinances that raised the drinking age from 18 to 21 and made parents responsible for teen vandalism and teenage drinking in the home.
Ms. McDonald also chaired the county board's Chicago Botanic Garden committee and in 1994 joined the garden's board. She helped raise funds to annex a 100-acre oak woodland, which was named in her honor in 1996.
Ms. McDonald is survived by her children, Elizabeth, Sandra and Gerald; four grandchildren; two great-grandchildren; and two brothers, B. John Mix Jr. '53, '56 JD and Joseph Mix.  
James McManus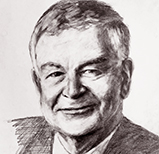 James R. McManus '56 MBA, Fairfield, Conn., Jan. 10, at age 84. A Northwestern life trustee, Mr. McManus revolutionized the marketing world, creating Marketing Corporation of America, the first-ever integrated marketing services firm positioned to serve Fortune 50 consumer product companies. 
After graduating from the Kellogg School of Management in 1956, Mr. McManus worked for Procter & Gamble and Glendinning Companies. In 1971 he set out on his own, founding MCA with just $25,000 in savings and a $50,000 loan. 
Over the next 26 years, it grew to be a $500 million enterprise whose clients included PepsiCo, Frito-Lay, IBM, Quaker Oats, Lipton and Dunkin' Donuts. Its services included strategic consulting, market research, advertising, sales promotion programs and venture capital. Mr. McManus' enterprise also included auto dealerships, Business Express Airlines and the Hotel Jerome in Aspen, Colo.
In 1989 the Northwestern Apartments, a seven-story complex in downtown Evanston for Kellogg students and their families, was renamed the McManus Center in honor of his leadership gift to the Campaign for Kellogg. He also supported the John C. Nicolet Football Center, the Ryan Field headquarters for football staff and players. He was a loyal Northwestern football fan. 
Survivors include his wife, Betty; four children, Robert, Melissa McManus '87, Mitchell McManus '97 MBA and Stuart McManus '89, '95 MBA; three stepchildren, Karl, Kurt Soderland '90 MBA and Eric Soderlund '96 MBA; and 12 grandchildren, including Northwestern students Nicolette McManus, a junior, and Graysen McManus, a first-year student. 
Joseph Newton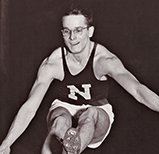 Joseph Newton III '51, '52 MS, Goodyear, Ariz., Dec. 9, at age 88.
A former sprinter for Northwestern's track team, Mr. Newton joined York High School in Elmhurst, Ill., in 1956 and became cross-country coach four years later. During Mr. Newton's nearly six-decade coaching career, York won 20 national cross-country championships and 28 state titles.
Mr. Newton became the first high school track coach to serve on the U.S. Olympic coaching staff when he was assistant manager of the U.S. men's track team in Seoul, South Korea, in 1988.
A four-time national cross-country coach of the year, he was inducted into the U.S. Track and Field Federation's Hall of Fame and the Chicago Sports Hall of Fame. He retired in 2016.
Mr. Newton is survived by his wife, Joan; daughter, Cindy; sons, Thomas and John; and four grandchildren, Caitlin, Kyle, Julia and Lauren. 
David Pemberton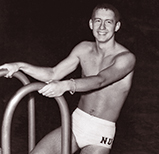 David S. Pemberton '58, Skokie, Ill., Oct. 17, at age 80.
A member of the Northwestern Athletic Hall of Fame, Mr. Pemberton was a two-time All-American swimmer and won the 1958 NCAA title in the 200-yard backstroke. He also placed second at the NCAA Championships in the 100 backstroke in 1958 and won the Big Ten title in the 200 backstroke in 1957. (See "Fifty Wildcat Greats," summer 2013.)
Mr. Pemberton went on to a career as a marketing executive at IBM, Telex and Tandem Computers.
He is survived by his wife, Sharee; daughters, Melissa, Linda and Deborah; sons, Greg, David and Matthew; and 10 grandchildren.
Govin Reddy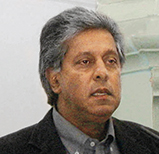 Govindasamy "Govin" Reddy '73 MA, Durban, South Africa, Oct. 13, at age 74.
An anti-apartheid activist, Mr. Reddy helped transform the broadcast industry in post-apartheid South Africa.
While completing a master's degree in history at Northwestern, Mr. Reddy studied with professor and activist Dennis Brutus. When Mr. Reddy returned to South Africa as a history professor, he continued his activism.
During a speech at the University of Durban-Westville in 1976, he veered off script, encouraging his students to rise up against the regime. Early the next morning, he was detained and imprisoned for five months.
After his release, he was banned from teaching, so he opened an anti-apartheid bookshop, sneaking books on liberation into the country and mentoring young activists. Eventually, the regime exiled him for nearly a decade.
After the introduction of democracy, Mr. Reddy returned to South Africa to lead the South African Broadcasting Corporation, transitioning it from the propaganda arm of the apartheid regime to an independent and inclusive public broadcaster.
He is survived by his wife, Tessa; his children, Sudeshan, Priya, Micah and Niall; and a granddaughter, Eila. 
Raymond Simon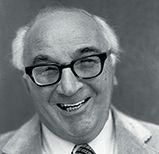 Raymond Simon '42 MS of New Hartford, N.Y., Nov. 7, at age 102. Known as the "father of public relations education," Mr. Simon earned international recognition as a pioneering public relations educator and textbook author.
After serving in the U.S. Army Signal Corps during World War II, the Medill School of Journalism, Media, Integrated Marketing Communications graduate was hired by Syracuse University to develop one of the first undergraduate programs in public relations at Utica College, then a Syracuse satellite campus, where he established one of the first chapters of the Public Relations Student Society of America. He wrote three textbooks on teaching public relations and several public relations handbooks.
He was the first member of the Utica College faculty to receive the Distinguished Teacher Award and he remains the only faculty member to receive it twice. Mr. Simon, who retired in 1985, was also named among the 20th century's 100 most influential people in public relations by PRWeek. The Public Relations Society of America honored him with its 1975 Outstanding Educator Award.
The alumni-funded Raymond Simon Institute for Public Relations at Utica College has awarded more than $250,000 in scholarships and awards and funds faculty projects and student activities. The Raymond Simon Convergence Media Center, which opened in honor of Mr. Simon's 90th birthday in 2005, is home to Utica College's public relations and journalism programs.  
Mr. Simon is survived by his wife Lyn; two daughters, Melissa and Brooke; and a grandson, Daniel.
Richard Willis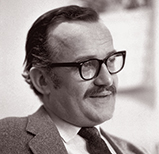 Richard Allen Willis '51 MA/MS, '67 PhD, New York City, Aug. 31, at age 90.
An actor, author and professor, Mr. Willis taught and directed theater at Northwestern and at Lewis & Clark College, where he served as chair of the theater department.
Mr. Willis appeared in several films. He moved to New York City, where he appeared off-Broadway. Mr. Willis also had roles in several soap operas, including One Life to Live. He published several short stories and wrote Long Gone (2007), a memoir about his childhood on a small farm in rural eastern Iowa during the Depression.
He is survived by his wife, Linda.
Michael Witwer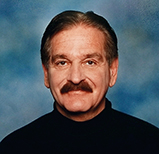 Michael Witwer '67 MD, '73 GME, Santa Rosa, Calif., Sept. 25, at age 76.
A battalion surgeon in the Vietnam War, Dr. Witwer received a U.S. Navy Commendation Medal with Combat "V" for providing medical support to his unit under fire. He also earned a reputation as a "battlefield stork" for delivering babies and providing medical care to local villagers.
After returning stateside, he began a medical career in infectious diseases. He ran a private practice and taught at the University of California, San Francisco.
Despite serious leg injuries from Vietnam, Dr. Witwer became a long-distance runner, completing more than 100 marathons and 50 ultramarathons. He also co-founded a charity run for cancer research that raised $300,000 over a decade.
He is survived by his wife, Carol; children, Julia, Michael, Vincent and Elizabeth; brothers Samuel and David; and a sister, Carole.