Features:
Northwestern Network Supports Young Alumni
Get in Touch and Get Together
Club News:
Regional Clubs
National Clubs
School News:
Dental
Feinberg
Kellogg
Law
Travel Essay:
A Norman Invasion
Close-ups:
Hey There, Brown Bear!
Judging Jackie
On Bass
National Clubs
---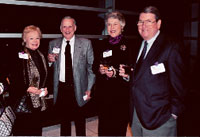 Photo by Cara Bottjen

At the Council of One Hundred's annual spring meeting in April, members gave students résumé-writing, interviewing and networking advice. The council also heard from guest speakers Shinae Chun (GSESP71), director of the U.S. Department of Labor's Women's Bureau, and author and School of Law senior lecturer Leigh Buchanan Bienen.

The John Evans Club's winter calendar included an evening of visual and performance art in February at the Mary and Leigh Block Museum of Art. Afterward members attended Irving Berlin's American Vaudeville at the Louis Theater. They also enjoyed the Wildcat men's basketball team's exciting 69-51 victory over Wisconsin.

The New York chapter of NU-A5 (Northwestern University Asian and Asian American Alumni Association) hosted political science professor Jeffrey Winters at the Williams Club in Midtown Manhattan last January. He addressed the subject of terrorism in Southeast Asia.

Following up on the success of its New York City festival last year, NUEA-East (Northwestern University Entertainment Alliance) showcased the finest new films and videos made by Northwestern alumni from around the country at a screening in Manhattan in March. Plans are under way to hold screenings in Los Angeles and Evanston.

Meanwhile on the West Coast, the cast of this year's Mee-Ow Show spent part of spring break in California and performed the best of this year's show and some improv games for NUEA-West members in Santa Monica. Actor and Mee-Ow alumnus John Lehr (C88) hosted the event.

In February members of NUGALA ( Northwestern University Gay and Lesbian Alumni) joined members of the NU Club of Chicago for a backstage tour at the Lyric Opera of Chicago. NUGALA also hosts networking events on the first Friday of every month at Sidetrack on Halsted Street.

Get active! Learn how to participate in NAA clubs by visiting www.alumni.northwestern.edu/clubs.



---