Features:
Northwestern Network Supports Young Alumni
Get in Touch and Get Together
Club News:
Regional Clubs
National Clubs
School News:
Dental
Feinberg
Kellogg
Law
Travel Essay:
A Norman Invasion
Close-ups:
Hey There, Brown Bear!
Judging Jackie
On Bass
Dental
---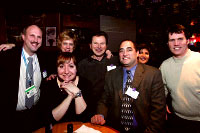 Photo by Jasper Chen

The Northwestern University Dental School alumni celebrated their annual reunion during the Chicago Dental Society Midwinter Meeting and Dental Convention in February. More than 160 alumni attended a reception at Knuckles Sports Bar at the Hyatt Regency Chicago.

Members of the June 1954 graduating class will reunite at the Hyatt Regency in Denver Sept. 17-19 for a weekend of activities.

All alumni in Orlando for the 2004 American Dental Association Annual Session are invited to a Northwestern reunion Oct. 1 in the Coconuts Room of the Peabody Hotel.

For the latest alumni news from the schools, visit www.alumni.northwestern.edu/clubs/school_assoc.html.



---