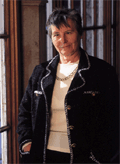 Dual Track
Author leaves her mark in many domains.
---
"I've always defined myself first as a writer," Leigh Buchanan Bienen says. "Law has been a bit of a distraction from fiction."

Before law school, she earned a master's degree in 1963 at the Iowa Writers' Workshop, studying with such distinguished authors as Philip Roth. A short play of hers was included in Winter's Tales, the McCarter Theatre's 1994 new play festival in Princeton, N.J. Her fiction - often stories that occur against a backdrop of social change - has appeared in well-regarded literary journals, such as Descant, Transition, Ontario Review, the O. Henry Prize Stories and Northwestern's TriQuarterly. This winter, TriQuarterly No. 104 published her novella, Technician.

Bienen began writing about the law in Nigeria, where her husband, Henry S. Bienen, now Northwestern's president, spent a sabbatical. She had just completed a year of law school, and to make good use of her time, she says, "I designed a research project on homicide in Nigeria. Writing led me deeper into the law." Her legal writing includes Jurors and Rape (with Hubert S. Feild) and more than two dozen articles in legal journals on rape reform legislation, incest, physician-assisted suicide, criminal insanity, homicide and capital punishment.

Her articles in the Women's Rights Law Reporter, "Rape I-IV," include a sex offense statute used as a model for reform in several states and adopted in New Jersey. - M.M.