Campus Fashion
Clinton Kelly's critiques
How do Northwestern students score when it comes to fashion? We photographed several on campus (hard by the Rock), then showed their photos to Clinton Kelly. Here's how they fared with the What Not to Wear co-host. — A.T.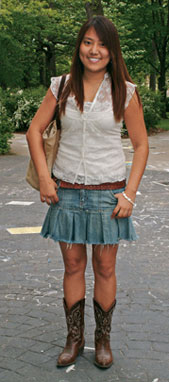 ESTHER LEE (sophomore, radio/TV/film major from Seattle): "It takes me 15 minutes, max, to shower and get dressed."
CLINTON'S COMMENTS:
— "The layering [of three tops] is a wonderful way to add extra depth to an outfit. It gives us an extra bit of texture — like in a painting. The lace is very of the moment, fashion-wise."
— "This is the time of your life to do a miniskirt."
— "I love the boots."
— "The low-slung belt she can do because she doesn't have hips."
BOTTOM LINE:
"Totally adorable."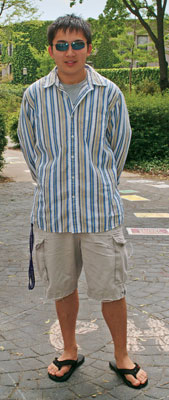 KEVIN ZHANG (Judd A. and Marjorie Weinberg College of Arts and Sciences sophomore from Atlanta): "I don't really care too much about what I wear. I just grabbed this for a 9 o'clock class."
CLINTON'S COMMENTS:
— "He's a guy with a kind of small frame and he's wearing a standard shirt from the Gap cut for people with medium to large frames."
— "This look is very common. The shirt doesn't fit him."
BOTTOM LINE:
"Anytime a shirt covers your crotch entirely, it makes you look shorter."
MICAH STANEK (senior film student from St. Louis): "I make my clothing or buy it at thrift stores. I'm more fascinated by the look than by how it fits."
CLINTON'S COMMENTS:
— "I love the orange belt [not visible] with the green T-shirt."
— "This look could have come off a European runway. There are certain designers like D Squared or sometimes D&G who will do looks exactly like this, and it's high fashion at a cost of thousands of dollars."
— "The pants are too long."
BOTTOM LINE:
"This is a very artsy look. If you want to be really fashion forward, a lot of times it looks a little bit sloppy."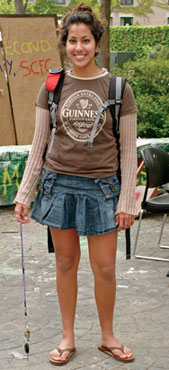 MANINI GUPTA (School of Communication sophomore from Munster, Ind.): "I throw on whatever is clean. Half my laundry hasn't been done since this quarter started."
CLINTON'S COMMENTS:
— "She has these really thick straps [on her backpack] so she looks like she is ready to go mountaineering, but she is also wearing flip-flops. So is she going to the beach or the mountains?"
BOTTOM LINE:
"I like the look. It's young. It's fresh."
COURTNEY SHARPE (Weinberg sophomore from Washington, D.C.): "I like to wear things the way people might not have intended them to be worn."
CLINTON'S COMMENTS:
— "The off-the-shoulder thing is a look, and she is pulling it off really well."
— "The idea of underwear showing [an orange bra strap, hidden by her hair] has become so popular that it is just the way things are."
— "I worry about her pants getting filthy after dragging around campus all day. I hope she is using a strong detergent."
BOTTOM LINE:
"She looks beautiful."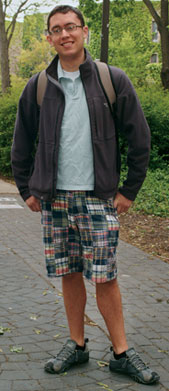 AARON GANNON (Medill School junior from San Jose, Calif.): "I want to look good, but I don't have a lot of time to make sure everything matches perfectly."
CLINTON'S COMMENTS:
— "The pants are fun — sort of Nantucket. But they're not wearing them with those clunky sneakers in Nantucket."
— "His polo shirt has obviously been rolled into a ball and has been sitting next to his bed for a week. That is really wrinkled."
BOTTOM LINE:
"My advice to him would be to get things from the dryer as they come out and fold them, rather than leaving them in the basket for a week, which is I'm sure what happened, because I used to do the same thing."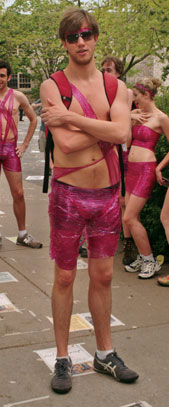 PURPLE HAZE Members of Purple Haze, a campus a cappella group, ran by the Rock to publicize a concert, wearing astutely arranged purple plastic wrap.
CLINTON'S COMMENTS:
— "I think the look is great, but if you're going to do it, do it whole hog, without the underwear. You're making half a statement."
BOTTOM LINE:
"Back in my day," he says, teasingly stern, "a cappella groups had a little more class."